Here they are: our top five Pixar movies
Published on 07/11/2016 in Showtime!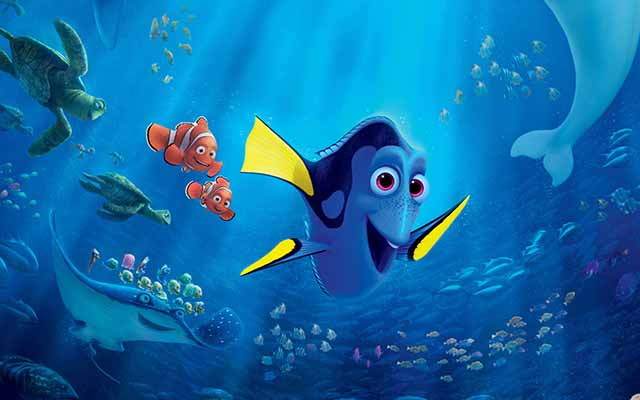 Finding Dory, Nemo and other heroes!
I don't know if the name Pixar rings any bells, but they've been making 3D animation movies for Disney for about 20 years now. It all began in 1995 with Woody and Buzz Lightyear in Toy Story. After that, the blockbusters just kept coming. What I personally love about these movies is the added layer of inside jokes for adults, which makes watching them with my kids also enjoyable for me.
It was a difficult choice, but here are my personal top 5:
Finding Dory

The latest release from Pixar won my heart over when I saw it at the cinema. And now it's available in the On Demand catalog of Proximus TV! This sequel to Finding Nemo takes place one year after the first movie. Together with Nemo and Marlin, the forgetful fish Dory goes in search of her parents. But they soon end up in an aquarium, together with other aquatic animals...

Finding Nemo

I probably like Finding Dory so much because I also loved Finding Nemo. Unless you've been living on Mars, you'll know that this movie is about the search for a clownfish called Nemo who is captured by a diver...

Inside Out

Inside Out is another gem from Pixar. In this movie, we go on a journey with Riley, a girl who is guided by five emotions in her head. These emotions are having difficulties coping with Riley's recent move to the big city…

The Incredibles

A bit older, but still a great movie. Formerly the world's greatest crime fighters, mum and dad now try to lead a normal life with their family. Until dad is called out on a secret mission …

Up

This Pixar movie is really heartwarming. Carl Fredricksen is a lonely old man who long ago promised his now deceased wife that he would move their home to the Paradise waterfall in South America. Now, he intends to make that dream come true, with the help of the young scout, Russell…
Itching to watch these movies now? Then I have good news for you: Finding Dory and Finding Nemo are now available in our On Demand catalog on Proximus TV. Ideal for a cozy evening with the whole family!
Of course, you can also watch the other Pixar movies via Netflix on Proximus TV. What's more, with every Tuttimus subscription you now get 3 months of free Netflix!