Valerie Taerwe, Young ICT Lady of the Year 2017
Published on 22/06/2017 in Inspire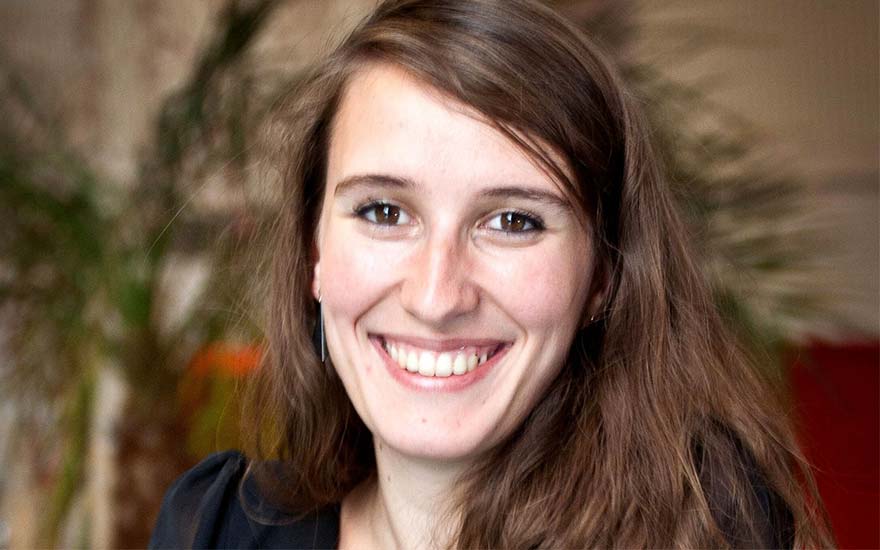 Valerie Taerwe is an empathic manager who firmly believes in cooperation with the customer. To relax she swims at least once a week so that she can explore deep seas in far-off countries when she's on holiday.
Career
Valerie Taerwe studied computer science engineering and software engineering at university and then set up G-flux with a couple of fellow students. The startup is, to this day, still developing mobile applications for smartphones, tablets and wearables.
She joined AE in 2012 and has also been associated with c-Quilibrium part-time since April 2014. In March 2017 she was named Young ICT Lady of the Year by Data News.
Company
AE - Architects for Business & ICT specializes in digital transformation. This firm of consultants helps customers to devise and develop new business models, services and products. The staff of over 200 do so thanks to thorough market knowledge, technological expertise and innovative techniques. C-Quilibrium has 20 employees. The team is the European market leader in cash supply chain optimization solutions for the financial sector (Belfius, Hypovereinsbank, LCL and others) and wholesalers. Because far less cash is transported now and fewer storage facilities are required, customers save up to 25% in costs.
" I've learned to embrace change. I no longer have to know exactly what is going to happen to have confidence that it will all turn out well."
What is the best moment of your working day?

Every day is different and I'm often on the road. So I really enjoy it when I can take part in conference calls quietly from home.

How would you describe your way of working?

Co-creative. By cooperating transparently with colleagues and customers, you achieve better results. But, at the end of the day, you have to make progress. I admit that I dare to 'push things along.'

What challenge or difficult choice sticks in your memory?

It was a big step for me to apply for a job at AE. I was determined to make the right choice and I was looking for a company whose DNA suited me. Now I have discovered that you can embrace change, too. I no longer have to know exactly what is going to happen to have confidence that it will all turn out well.

What would you be doing if you didn't do this job?

Then I'd like to be a psychologist. I'm interested in interactions between people. I think empathy is very important and, as a psychologist, you can clearly mean something to others.

Who would you like to get stuck in a lift with?

I like good quality contacts that you get a lot out of personally. So I'd choose Wouter Torfs. He obviously pays a lot of attention to an efficient organization and sound corporate dynamics. At AE, we think that is important, too.

What do you think will be the next trend in the world of technology and IT?

There is still a lot of room to grow in the sharing economy. I'm thinking, for instance, of sharing bicycles and gardening equipment. But there are many other possibilities. Who knows, perhaps in the future I'll set up another startup that is involved in the sharing economy.

How do you see the role of the CIO evolving over the next 20 years? What leadership skills do you think will be important for a CIO?

We are evolving towards a network organization. Big organizations that want to control everything are no longer tenable. We have to give more power to the 'coalface' teams in any case, so that they can decide quickly and autonomously.
One
One magazine is the Proximus B2B magazine for CIOs and IT professionals in large and medium-sized organisations.
Other articles of One