A question of offering added value
Published on 27/06/2017 in Inspire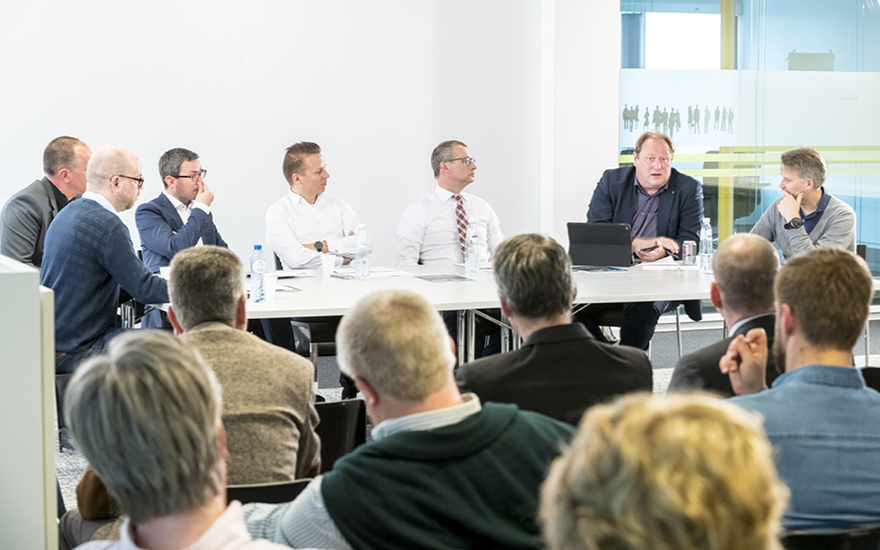 Success in the digital world is not simply a matter of technology. The human component – in the form of expert advice – and proximity are also important. Above all, the digital process stands or falls on its initiative and daring, based on a vision in line with the value you want to create for the customer. And then you have to carry on fine-tuning with this customer until you have a top-class product.
Digital transformation is about the application of digital technologies in virtually every aspect of society. The term refers both to the digitization of existing processes and the advent of new, disruptive models. It's about applications for digital communication and media consumption, but also innovative solutions that can turn entire sectors upside down, such as Uber and Airbnb. "I don't like the term," says Stijn Lehaen, manager of the VRT Digital Production Center. "It's not purely digital, because we don't focus on technology. And it's not a transformation, because it's not a process with an end point. What you do need is a maneuverable organization that constantly adapts."
Not at the same speed everywhere
Above all, companies should allocate a mandate and a budget to their digital project. That is what happened when Belfius was first set up. "We started from scratch, with a new brand and a new form of customer interaction," says Geert Van Mol, Chief Digital Officer at Belfius. "We saw the rise of the smartphone and focused fully on mobile first." The fact that Belfius appointed a CDO for this, with a mandate and resources, confirms that the bank was serious.
"It shows that digital transformation is not the right description," Sven Bally agrees. As a consultant with Mediabrands, he also works in the fields of customer experience and transformation in the retail sector. "First and foremost, it's about people management. Consumers and the sector are both changing. Retail firms often have difficulty finding the right answer."
Change is also a major challenge in the insurance sector. The digital distribution of insurance policies is increasing rapidly, particularly with commodity products such as car and travel insurance. New models are disrupting the traditional market, among other things by selling very short-term insurance policies digitally. "At the same time, the range of very complex, professional insurance products is changing," says Pedro Matthynssens, Managing Director of Vanbreda Risk Benefits.
"Here we are moving towards an advice-giving business, where we analyze risks on a customized basis and work out a suitable solution." But digitization is not happening at the same speed all over the world. Companies can learn a lot from markets that are way ahead of their own. Silicon Valley still provides inspiration, it appears, but these days the truly impressive things are happening in China.
" What you need is a maneuverable organization that constantly adapts."
– Stijn Lehaen, Manager of the VRT Digital Production Center
Where do you start?
"You have to dare to make choices," Lehaen says. "And yes, it's possible you will make mistakes along the way, but then you have to make sure you can adjust. You do that by starting small, with processes that have a significant impact and create great involvement." It's often not as easy as that. The CEO has to defend the plans to the shareholders. Change often meets with resistance. "With us the disruption comes at two levels," says Geert Kelchtermans, director of E-Transformation at Proximus. "It involves the technologies and the business models. We opt for an agile working method, with short development cycles. It allows us to speed up at the right moments or take our foot off the pedal a little where necessary."
"There has indeed been no big bang," Matthynssens agrees. "You have to do small things – but things that come from a business case. You can also be sure that many of these little projects will fail." But waiting until you can come out with a complete narrative only causes needless delay. "A small step along the digital path can mean a lot for the consumer," says Lehaen. "With vrt.nu we offer barely a quarter of what is on the program. But the response is very positive and that creates a positive climate for what else is coming, among consumers and internally, too."
Customer experience is the starting-point
A partial approach like this works, as long as the information provided is accurate. "That applies more than ever in retail," says Bally. "There everything revolves around the customer experience. Customers expect to be able to obtain information, such as the current status of an order. The challenge lies in additional service. Customers who order 10 items, for instance, to try them on and then return nine. Customers who want extra advice via a digital channel, that's the difficulty." The answer lays not so much in the technology, but in the structure around it. "I'm thinking of the human aspect," says Van Mol.
"The advice given must be helpful. And we shouldn't forget the local component. If an order service guarantees that it will deliver within 10 minutes, this can't be done without local support. And if someone wants to phone from a digital channel, then you have to take that call in the language of the customer straight away."
According to Matthynssens, at the same time we should not underestimate the role of technology. "In the digital world, everything is software. Does that mean software is becoming our core business? That makes the choice of a particular technology extremely important. As a company, you want to have the right expertise in house to deal with this." Above all, however, a cultural change is necessary. Companies need to review everything.
Basically, they need to put themselves in the position of a startup. "You can definitely shock a little," Bally believes. "You can do that by recruiting people from other industries, albeit only temporarily. The travel sector, for instance, is ten years ahead in digital terms. Someone from this sector can bring in a whole new perspective." In general, it's still a battle to attract the right talent. "That's why these days, first and foremost, we hire people with the right spirit," says Kelchtermans, "Even though sometimes they don't yet have all the technical background we need."
Look for the right solution
The core of the digital story is that companies have to learn to think on the basis of the added value that they want to offer their customers. "A digital application is successful when it offers a concrete solution to a concrete problem," according to Van Mol. The big challenge lies in the search for that one, right solution. "You succeed best here by trying and testing," says Kelchtermans, "by making sketches and talking to customers. It's an iterative process whereby you constantly perfect the solution on the basis of continuous feedback." The customers' response is vital here.
"Our customers indicated that they did not like sending in letters relating to insurance claims," says Matthynssens. "Now we are developing an app for that. So it appears yet again that insurance consists first and foremost of experience products: as a consumer, you know what the service is worth when you really need it." As well as feedback from customers, a strong local presence is also an asset. "If we combine digital with human and local, we don't need to be afraid of the startups or other disruptive forces," concludes Van Mol, "as long as we succeed in offering what the customer wants."
Conclusion
Digital is here to stay. Companies that dismiss the digital story as hype are minimizing their own chances of survival and are taking a big risk. But without a smart approach, soon it won't work, either. So, as you do it, try fast and fail cheap is the motto: experiment quickly and cheaply with processes that provide concrete added value, with an eye on the human and local aspect.
Your opinion matters!
Would you like to respond to this round-table discussion?
Tweet @ProximusEnt
One
One magazine is the Proximus B2B magazine for CIOs and IT professionals in large and medium-sized organisations.
Other articles of One