Facility management: completely relaxed at the Tour & Taxis site
Published on 24/02/2022 in Inspire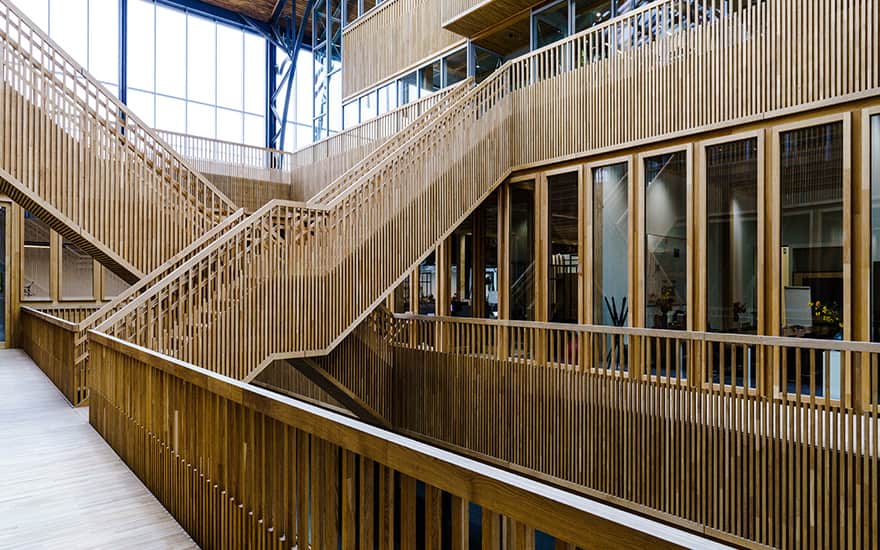 The historical Tour & Taxis site is developing into a city of its own in the Brussels Canal Zone. Hélène Van Elst and David Roels explain how their facility management helps de-stress visitors, residents, and businesses.
The former railway site of Tour & Taxis is experiencing a true revival. Project developer Nextensa is creating an exciting mix of accessible housing, office spaces, event venues, public green spaces, eateries, and much more. The Maison de la Poste, which used to house Brussels' first international postal service, is one of the absolute highlights. This beautiful piece of historical and architectural heritage now serves as a unique venue for events, meetings, and seminars.
Those who book a meeting or event room at Maison de la Poste do not have to worry about anything.
Hélène Van Elst, hospitality manager at Tour & Taxis
As hospitality manager, Hélène Van Elst ensures that every activity at Maison de la Poste becomes a success. As property manager at Nextensa, David Roels streamlines facility management across the entire Tour & Taxis site. Both of them, in their respective roles, ensure that anyone using or visiting the site has the best possible experience.
"Whoever books a meeting or event room with us does not have to worry about a thing," says Hélène. "The experience begins when you arrive thanks to our shuttle service and the availability of a large parking lot. From the welcome to the clear signposting to the many catering options, an optimal experience is at the heart of our customer journey.
Wayfinding
This high level of service also has a technological dimension. "We are rolling out a major wayfinding project," explains David. "Digital screens are a first step towards guiding visitors at the site. The further roll-out of this project is considered a top priority because we value comfortable living, shopping, and working on the site. In the future, we also want to use lighting and offer guests a view of the site's sustainability performance through our screens."
The extensive camera network on the Tour & Taxis site contributes in various ways to the safety and comfort of both guests and organizers.
David Roels, property manager at Nextensa
Smart camera network
Tour & Taxis has an extensive camera network that contributes to the safety and comfort of both guests and organizers. "High-resolution cameras record the number of people who are in Gare Maritime. This information is crucial in the event of an emergency evacuation. Likewise, this Proximus solution offers us, among other things, the possibility of detecting lost objects. From our control room, we set certain rules ourselves. In this way, for example, analysis software warns us when too many people are entering our buildings at once," David explains.
Connectivity
Proximus is responsible for the connectivity part of the site. "A high network speed and stable Internet connection are indispensable in the events industry," says Hélène. "In addition to the excellent network facilities, we also offer our guests optimal livestream facilities thanks to an additional cable connection and ceiling-mounted microphones." David also points out the redundancy of the fiber-optic network, which means that Internet traffic runs over two routes. If one connection fails, the other takes over, ensuring continuity at all times.
Sustainable and accessible
"Measuring is knowing," is the motto of both partners. "That also applies to our waste management," David clarifies. "We sort our waste at the source as much as possible to keep the impact on the environment and the cost of disposing of it to a minimum. To do this, we are strongly committed to raising awareness among our visitors and guests."
This sustainable approach fits perfectly within Tour & Taxis' social and environmental approach. "The site has an open character. For example, the buildings are wheelchair-friendly and adapted for disabled access. On evenings when no meetings are taking place, we make the Maison de la Poste available to local associations, such as the brass band, the salsa school, and the music choir. Did I mention that everyone should feel at home here?" Hélène concludes with a wink.
Hélène Van Elst is hospitality manager at Maison de la Poste. Together with her staff, they call themselves the hosts for customers and visitors.
As property manager at Nextensa, David Roels streamlines the overall facility management across the Tour & Taxis site.
Find out how Nextensa managed to achieve a balanced mix of offices, living, shops, greenery, and recreation in the interview with Peter De Durpel, COO of the company.
One
One magazine is the Proximus B2B magazine for CIOs and IT professionals in large and medium-sized organisations.
Other articles of One