Fiber optics is an essential part of our business
Published on 13/04/2016 in Inspire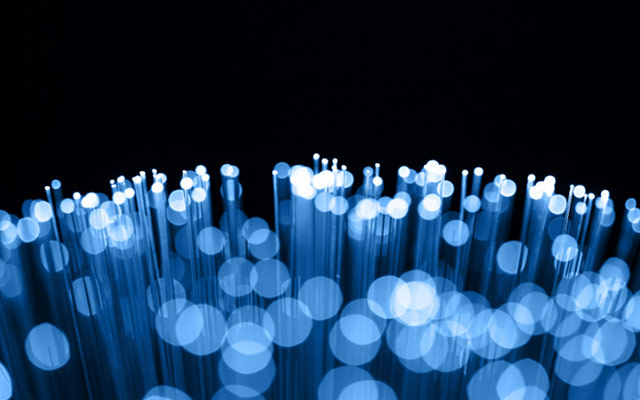 Companies exchange multimedia with clients and partners, they offer applications in the Cloud and work together online. A great many users are often active on the network at the same time and, what's more, the data volumes can be sizeable.
In the multimedia era, now more than ever we need a network that offers sufficient speed and bandwidth. With multimedia in the Cloud, fiber optic connections are becoming increasingly common, including in smaller companies. "We're constantly exchanging large files," says Tim Vanderbruggen of Watkins, an American jacuzzi manufacturer. "For instance, we receive digital brochures from the head office in California, as well as video files, manuals, photos, etc., that we provide as support for our dealers." One feature specific to companies that switch to fiber optics is that they often work with large volumes in both directions, both uploading and downloading. "We do indeed need substantial upload capacity," says Frank Boeckaerts of All Media Monitoring Company (AMMCO). The company undertakes media monitoring for over 1,000 partners: it collects and compiles reports that appear on companies in the media. "In the first place, fiber optics offers us high capacity. A conventional ADSL connection proved inadequate. Sometimes hundreds of users log on to our platform, all at the same time, in search of their content. Fiber optics can cope with that perfectly."
Large volume, no problem
Dapesco has a similar need. The consultancy firm helps clients follow up and adjust their energy purchases and consumption. "We receive over a million reports daily with data from clients' measuring points," says Jean-François Potelle of Dapesco. "We analyze this data and then send summary reports to our clients." Via a web application, clients can follow their energy consumption online, too. "Of course, this application has to be constantly available, everywhere, including at peak times. Thanks to the fiber optic connection, we manage to guarantee this service." Availability is the biggest challenge for Oona, too. The communications firm provides text, photos and videos on big-name clients such as Nike, JBC and Ikea. "We make these media available to journalists, for instance," says Oona's Werner De Smet. "The files have to be available immediately and the download has to be fast." When Oona moved to new premises, the company decided to switch to fiber optics. "We wanted to avoid ultimately having to compromise on performance. "In terms of speed and bandwidth, with fiber optics we're good for quite some time yet."
Essential element
Oona, All Media Monitoring and Watkins all have a fiber optic connection with a symmetrical capacity: uploading and download take place at 20 Mbit/s. At Dapesco, the symmetrical capacity is 30 Mbit/s. "Our entire business depends on this connectivity," says Frank Boeckaerts of All Media Monitoring. "Instead of cutting articles out of the newspaper for our partners, we collect and distribute everything digitally. The fiber optic connection is an essential part of our business." At Watkins, the internal working of the company also relies heavily on the network. Staff at the European distribution center in Dilsen-Stokkem are in close contact with their colleagues in San Diego via videoconferencing. "For that, too, it's handy that we have a fast connection," declares Tim Vanderbruggen. "We use Skype for Business. With fiber optics, that works without a hitch and offers good audio and video quality." Above all, fiber optics guarantees smooth service provision for clients. "We manage 15,000 sites in 40 countries," says Jean-François Potelle. "Without a reliable and high-performance network, our business comes to a standstill straight away." The same goes for Oona. "The network is an essential element of what we offer as a company," concludes Werner De Smet. "Clients know that our content is always available immediately."
Proximus team
Proximus keeps you informed on the latest news and trends for ict professionals.