WBA Fiber-To-The-Home
Wholesale offer for Beneficiaries to market their own branded FTTH services
The Wholesale Broadband Access Fibre-To-The-Home (WBA FTTH) service will allow the Beneficiary to connect on the Proximus network at a Proximus Service PoP and to receive Ethernet frames from the end-user using FTTH technology. The transport end-to-end between the end-user and the Beneficiary is Ethernet.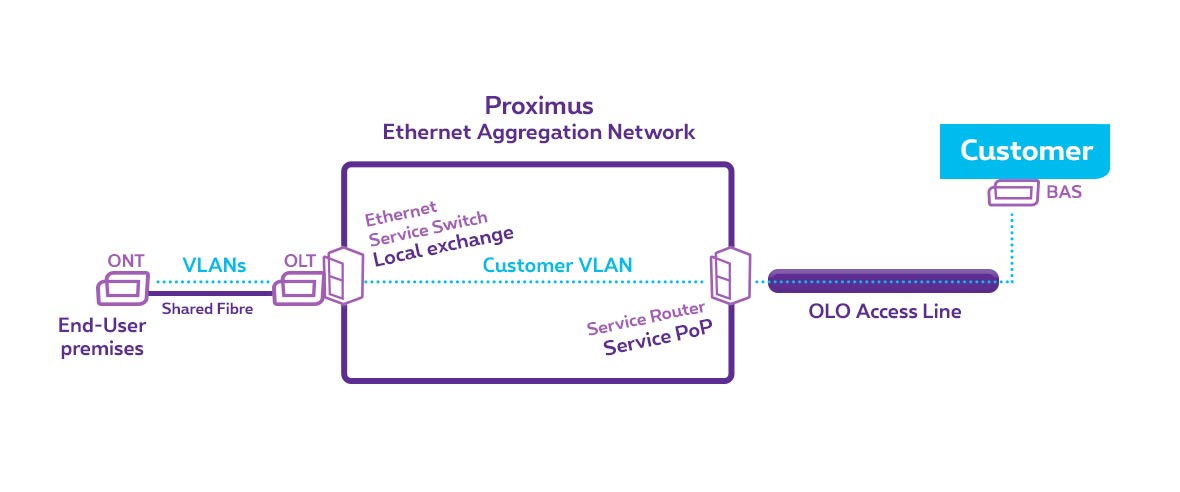 The offering of service covers:
The provision by Proximus of one or several OLO Access Lines between the Customer Equipments and the Proximus Service PoPs;
The provision by Proximus of transport bandwidth (VLANs) between the Ethernet Service Switches to which the OLTs are connected on which the Beneficiary wants to connect end-users and the Proximus Service PoPs to which the Customer Equipments are connected; These VLANs are shared between several end-users of a Beneficiary in a same LEX.
The provision and the configuration by Proximus of Ethernet Transport between the OLTs and the Customer Equipments.
The provision by Proximus of FTTH lines to the end-users.
Proximus offers:
An access solution based on 5 building blocks: Ethernet Transport, FTTH Access Technology, Profiles, Complementary services and Installation methods.
FTTH Connectivity (from end-user's ONT GE port at UNI to OLT) and transport (Ethernet) between end-user and Beneficiary Access Point(s)
1st line repair for Provider access line
2nd line repair for all end-user network related issues
Provisioning interfaces (through XML & e-mail).
Beneficiary is amongst other responsible for:
First line helpdesk and repair for any questions from end-users
Interconnection to Proximus Network
End-user Billing and Marketing
End-users' Service Box.