Carrier Services
Easily grab the digital market with Carrier Services
As a provider wishing to offer Fast Internet services in Belgium, you can benefit from a one-stop shop offer and interconnect at any one of our defined Proximus Access Points, to provide high-speed Fast Internet access to your end-users.
Proximus provides the connection requirements and repair processes at both the physical and the transport level, including the local loop, DSLAM, ROP, LEX, Ethernet transport, MSR/BAS. You provide the first-line help desk and repair for end-users, next to end-user billing and marketing.
The product offer is structured around different combinations of profiles (speeds & volumes) and options: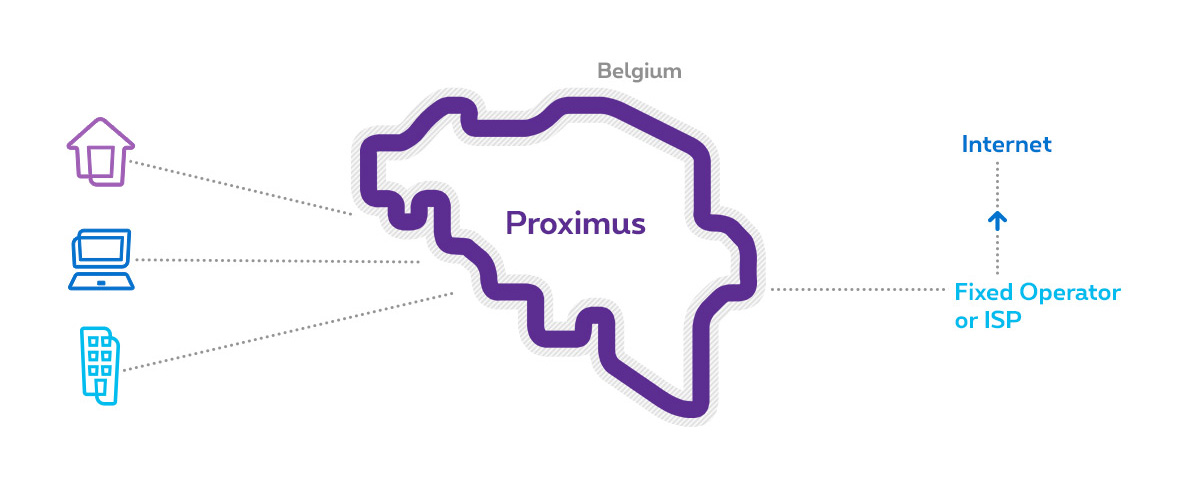 Based on your needs, Proximus can offer different profiles for both residential and professional end-users. All professional profiles come with the "Business Pack" Option included (Fixed IP), volume according to a Fair Use Policy and repair via a dedicated Professional helpdesk. The available profiles differ in the allowed volume, speeds and technology (ADSL, ADSL2+, VDSL and FTTH). The available speeds can be up to 100 Mbps, offering your end-users high speed connectivity. For an in-depth description of the available profiles, the exact conditions and availability, please contact your dedicated account manager or contact us by e-mail.
With or without voice (only applicable for xDSL products, not for GPON)
Choose whether you want your end-users to have a fixed Proximus line ("With Voice") or none ("Without Voice).
Business Pack
For your professional end-users a fixed IP address is a must. The Business Pack option allows you to offer this service on the Go and Plus profiles.
Improved SLA (ISLA)
A timely repair of the offered service is of great importance for your end-users' satisfaction. An Improved SLA will ensure that strict resolution timers are respected for your repair tickets. Proximus offers you 2 types of ISLAs, according to your needs: Silver & Gold (Gold only applicable for xDSL, not for GPON).
For your professional end-users Proximus advises the Gold ISLA in order to offer them a best-in-class repair service.
Proximus offers:
An internet access solution with one single interconnection point
Full connectivity (end-user to ROP/DSLAM/LEX to MSR) and transport (Ethernet) between end-user and Provider Access Point(s)
1st line repair for Provider access line
2nd line repair for all end-user network related issues
Provisioning interfaces (through XML & e-Services)
Provider is responsible for:
First line helpdesk and repair for any questions from end-users
End-user Billing and Marketing
Radius server (mandatory) and IP pools
Internet Connectivity (or Direct Internet Access service)
End-users' modems (compliant modem in ADSL/ADSL2+/FTTH, o-box 3v in VDSL2) management
DNS, email & web services
If you have any questions regarding the Carrier Services offer and the benefits it can offer you, please contact your dedicated account manager or contact us by e-mail.