Meetings from any location with Cisco
Cisco Webex
Work remotely in a simple, reliable and highly secure way.
Looking for a video conferencing and online meeting solution? Choose Cisco Webex Meetings.
With Cisco Webex Teams, provide your teams with a complete solution for effective collaboration.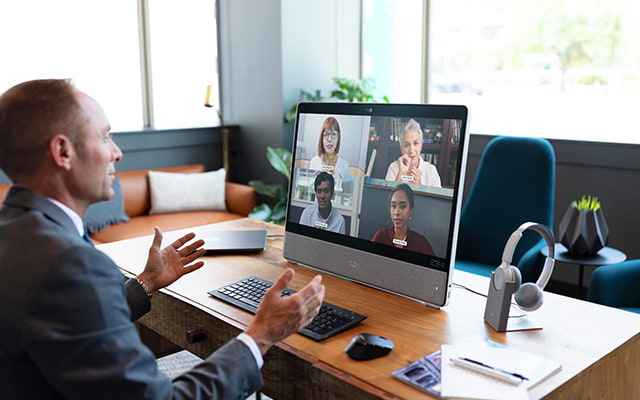 Cisco Webex Meetings
Meet online from anywhere and share your screen. Experience crisp audio and video thanks to built-in bandwidth optimization.
Participate with any device
Switch device seamlessly during your meeting
Cisco Webex Teams
The all-in-one application for physical and virtual collaboration. Work with colleagues in Spaces with video conferencing, group chats, document sharing and whiteboarding.
All the tools, all the time, everywhere
Whiteboarding and drawing
Never miss a message
Share files securely with anyone anytime
Why Webex?
It's the New Webex
See it. Say it. Hear it. Celebrate it. All of your tools, all on one platform.
Collaboration without compromise
Secure at the core. Webex has security that is built-it not bolted on.
Work without borders
Designed to help teams securely communicate, ideate, and iterate from anywhere, anytime.
One platform, one app, all workloads
Enable remote workers or redesign an entire campus, the power of the Webex platform is all you need to scale and control your entire collaboration suite.