After a series of takeovers, media group De Persgroep was left with a cocktail of telecom solutions. The company is replacing all of the existing switchboards and now offers its employees the many possibilities that Unified Communications provides.
Takeovers are a tried and true way to ensure your own growth as a company. But it means that you need to take over the existing telecom infrastructure, which is not always an advantage. That is why, at De Persgroep they opted for Unified Communications across all their sites.
For over a century, De Persgroep has been a distinguished name in the Belgian media landscape. The company is active in Belgium and the Netherlands and produces newspapers, magazines, television and radio. The over 3,000 employees jointly generate a turnover of just under 1 billion euros. "In recent years, we have performed a lot of takeovers," explains CIO Luc Verbist. "That means that you're stuck with all those different telecom solutions that run on different protocols, which you either need to manage separately or, if you do coordinate them, sacrifice a lot of functionality. In Belgium, we have been Belgacom client for years; in the Netherlands, the company we took over was a client of both KPN and Verizon. When we noticed that there was a lot of traffic between our different sites, we started to think about a more global and streamlined approach to our telecom."
The search
De Persgroep decided to go ahead and replace all the telephone switchboards and shift to Unified Communications. Based on interviews with potential users, specifications were drawn up. The search for a hardware supplier could then begin. This search took about 2 ½ years. It's a fairly long time, but there is a logical explanation for it. "The entire process had to be put on hold for about a year and a half because of another major takeover that happened," clarifies Luc Verbist. When the smoke cleared, it was time to resume the hunt. In total five suppliers were contacted. Luc Verbist: "In the end, Cisco landed the deal, especially because of the better integration with Mac. Along with 2,700 PCs we also have about 800 Macs in use. Also, the strong virtualization potential and user-friendly user interface were assets. Last but not least there was the better price-quality ratio."
Partner for integration
With the new platform, users are gaining a lot of new possibilities: phone calls from their PC, call following (phone calls that can track you throughout the building), videoconferencing, integration with Outlook … For the implementation of the solution, De Persgroep called upon the expertise of Belgacom. "Cisco always works through a partner channel," points out Luc Verbist. "We have been their customers for years, including for our network equipment. We are also very satisfied with Belgacom's work in the area of integration. It was a logical choice for us, therefore, to continue working with Belgacom. We were also fortunate to have an excellent project manager: everything is going beautifully." The operational rollout of the new platform has only just begun. "Our printing plant in the Hague was the first in line. That is our test-site, you might say. Everything is going fine there, and we are starting rollout at our 20 other locations. Ordinarily, we should get going in September. The bulk of the work has already been done. You know that everything functions properly. In fact it's just a question of installing it and there you go," according to Luc Verbist.
Savings
The entire project will save De Persgroep about 500,000 euros annually. "If you realize that it takes about 20 months to pay for itself, you can get a good idea of the investment," laughs Verbist. In the meantime, De Persgroep has done another takeover in the Netherlands, of VNU Media. These other sites, in Groningen and Amsterdam, will later be added to the new platform as well. "That will be a relatively simple operation. The IP-network is already there; it's just a question of connecting the sites to the data center and you're all set."
Company profile
De Persgroep is one of the largest media groups in the Benelux region and publishes newspapers such as Het Laatste Nieuws, De Morgen, De Tijd and De Volkskrant. Their portfolio also includes radio and television stations such as VTM, Vitaya, JoeFM and AT5.
Business benefits
Uniformization: the same equipment at over 20 sites
Central management of the network
Greater availability
More possibilities for the end-users
Cost optimization
More info?
For more information on Unified Communications, visit the Belgacom website or contact your Account Manager.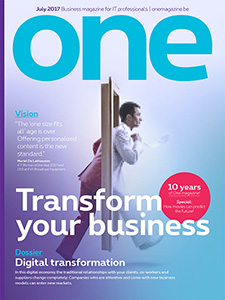 Share your opinion about news
Do you want to share your opinion or comment?
To comment login to Facebook.