Liantis improves digital services with Teams and WhatsApp
Published on 10/12/2021 in Customer Stories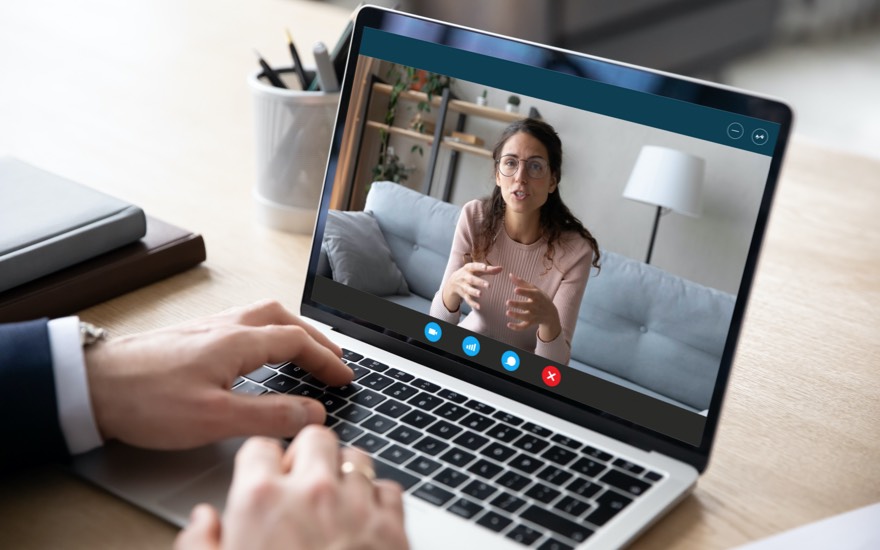 Liantis helps customers via the channels they feel the most comfortable with. Implementing Microsoft Teams as a telephony solution and WhatsApp as an information channel fit that picture perfectly.
The further expansion of the My Liantis digital platform was a new milestone in Liantis' digitization process last year. "The platform acts as a digital gateway for business owners, employers and accountants," marketing manager Inge Logghe explains. "The customer uses it to request certificates, pass on employee performances, and so on. We combine that digital service with the availability of our staff, making us stand out as our customers' route companion."
New challenges
Providing help by telephone is an important part in this personal approach. Inge: "Many customers prefer to contact us by phone. Liantis provides support through a direct, personal customer advisor. They know the business and know how to respond to their needs."
The Covid crisis brought new customer service challenges for Liantis. "Our people were working from home more often, while the number of customer inquiries was increasing at a rapid rate. The telephone system that we used then reached its limits," Inge recalled.
The task was to manage the flows of phone calls better, without losing focus of the customer.
Inge Logghe, marketing manager at Liantis
Teams as a telephony solution
In order to optimize the telephone service, Teams has developed into a complete working environment within Liantis. "We use Teams for telephony. Thanks to the link with the Teams diary, we now manage the communication flows more efficiently", explains Nicolas Van Kerschaver, director of digitization. "A call will automatically be transferred to a colleague when a meeting is scheduled." Our employees remain accessible regardless of location, while the customer still reaches our services via the familiar direct phone number."
"Proximus first set up a temporary environment for us, after which we switched to Teams completely. The fact that our employees were already using Teams internally played into our hands," said Nicolas.
Vaccination questions via WhatsApp Business
Liantis has also set up a WhatsApp Business platform. Inge clarifies: "We have a strong presence within the healthcare sector as an HR service provider. The various care facilities needed a channel to answer their employees' questions about vaccinations in a quick, accessible and smooth way. Research showed WhatsApp to be the preferred medium for this."
Together with Proximus, Liantis developed a WhatsApp channel where nurses and care workers could ask both personal and general questions about vaccinations. "Our prevention doctors give us the necessary medical knowledge in-house. Some team members followed a training course on focused and concise communication and we then spread those insights further within the organization."
We are working towards further integration of WhatsApp within our customer service following the successful rollout within the healthcare sector.
Nicolas Van Kerschaver, director of digitization at Liantis
#Interact
The doctors receive and send messages through #Interact, a platform that bundles all WhatsApp conversations into one central interface. "Setting up the WhatsApp line and platform as well as the training of doctors was done in less than a fortnight which allowed us to go live within the shortest time even in the middle of Christmas," Inge recalled.
The new communication channel immediately met with great approval. "Of course, much also depended on the extent to which the healthcare facilities themselves had promoted the WhatsApp service. Where this had been the case, including with screensavers and posters, the response was the greatest. That exercise also immediately proved to us the potential of WhatsApp within our overall service."
Contact an expert Opens a new window
Future plans for WhatsApp
"The setup took place within a clearly defined context, with a sector-specific target group," Nicolas added. "But it has proved effective to us and affords opportunities to help businesses in other ways as well, such as with answers around their HR policies. To us, a digital solution is relevant when it contributes/it conduces to the speed, personalization and ease-of-use of our services, both for our customers and employees. The test case within the healthcare sector demonstrates that WhatsApp meets those conditions."
As director of digitization, Nicolas Van Kerschaver is responsible for driving digital projects that contribute/that conduce to optimal service provision within Liantis.
Inge Logghe manages the marketing and communication department of Liantis.
Telephone, e-mail, chat or face-to-face: which channels do your customers prefer?
Start People spreads the workload and digitizes the interaction with its temps through a chatbot.
One
One magazine is the Proximus B2B magazine for CIOs and IT professionals in large and medium-sized organisations.
Other articles of One