Do call us 24/7
Published on 23/06/2017 in Customer Stories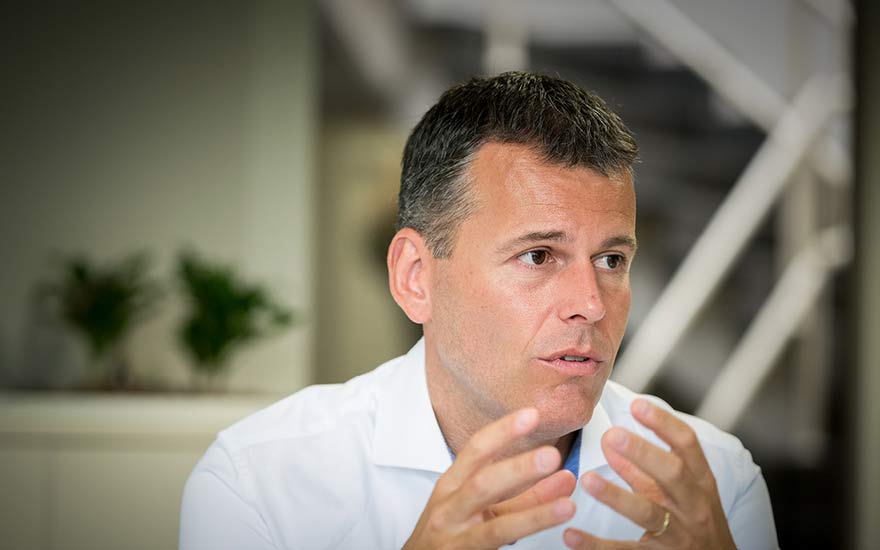 Reachability is crucial for every employment agency. Koen Vanneste, CIO and CTO of Konvert, looks back at the centralization of their telephone system. "That investment led to smart collaboration!"
Since 2000 we have been working with a secure Explore data communication network. But until 2015 conversations between our PABX switchboards were still routed via an external number," says Koen Vanneste. "Of course, we'd known for a while that we had to make some investments. But for an IT decision-maker it's no easy matter to figure out all the pros and cons while, at the same time, ensuring consistent integration."
Switch
Vanneste wants to weigh up the various options for every IT investment. He looks for user-friendliness and compatibility with the existing infrastructure. "Both the quality of the phone conversation and the ease of use of the total solution are very important in our business and, of course, Konvert also wanted to move to voice over IP." At the end of 2014 several trial installations were tested, and various options were compared with one another.
"When these tests revealed a number of shortcomings, we eventually opted for a total solution from Cisco and began installation and configuration of the Cisco UC platform at head office. In the meantime, the Proximus training center organized a course on the technical details for all our system administrators."
The future
In 2018 Konvert is moving to a new head office. "The new building will be equipped with all the modern communication media. We are currently looking at all the various options concerning videoconferencing and smart boards for our different meeting rooms. These technologies are constantly evolving and the possibilities when it comes to such devices and solutions are moving so fast that all kinds of collaboration that you wouldn't have thought technically feasible are now becoming a reality."
Interviews via video chat
"Sooner or later we will be conducting interviews via video chat integrated into our website. The first step – a complete overhaul of our website – has already been taken. We are building a myKonvert application for our clients, so they can go online and follow the entire recruitment process, look at statistics and reports and enter data. Recently our on-site infrastructure was completely updated and a number of applications were migrated to the cloud. The migration to Office 365 is now in full swing. Digital transformation is a continuous process; it never stops!"
How does Konvert work via UC?
The unique UC solution offers one centrally managed platform at head office that quickly and efficiently connects all sites to each other via Explore.
The maintenance and addition of new offices is very straightforward.
Employees are no longer bound to one particular office. Their own user profile is available anywhere, anytime. Useful for those who are responsible for 24/7 permanence.
Konvert consultants have a desk phone and a soft phone via their computer, complete with ergonomic headsets.
The presence function lets you see whether Konvert personnel or their colleagues are present or available.
Personnel opt for the instant messaging chat function over e-mail for quick messages.
The 1 on 1 video function and the protected areas are useful.
Automatic pick-up of incoming calls. The caller is automatically put on hold and the call flow then links him to the first free phone.
The 'click to dial' feature is popular with all the recruitment consultants.
Internal course participants can phone in directly to a course via video chat.
Smart collaboration
Smart collaboration and maximum availability are entrenched in four drivers:
Business efficiency

Personnel in service companies spend, on average, half of their time responding to messages and processing information. New technology has to focus on accessibility and other ways of collaboration.

Employee mobility

More than six out of 10 employees would like to be able to work from home. They have to be able to access their files 24/7. Thanks to cloud applications, this is now a real option.

Customer experience

Two-thirds of clients hang up if they aren't put through to someone quickly enough. A well-thought-out service plan is therefore required as well as a technical infrastructure that connects the client to the right person.

Business continuity

Don't miss out on opportunities because of a technical fault. Your infrastructure is becoming increasingly complex. So you have to provide emergency procedures and backups as standard.
The family group Konvert, with subsidiaries Interim, Office, Construct, Food and Logistics, employs more than 380 personnel across 85 branches. Konvert is one of the top 10 Belgian employment agencies.
Koen Vanneste is an industrial electronics engineer and has worked for Konvert since 1998. Prior to that he worked as Sales Support Engineer at Barco. He set up the Konvert IT department and heads up all the IT projects.
More info?
One
One magazine is the Proximus B2B magazine for CIOs and IT professionals in large and medium-sized organisations.
Other articles of One