Fully committed to the digital transformation of our economy
Published on 14/10/2020 in Inspire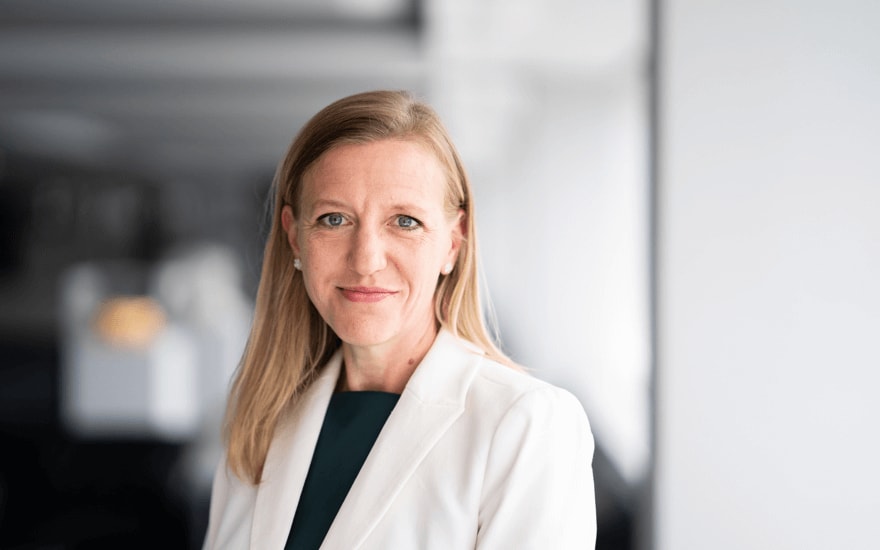 The B2B market is her playground, and her goal is bring customers and partners together and integrate the organization's ecosystem. An interesting meeting with Chief Enterprise Market Officer Anne-Sophie Lotgering.
You are no stranger in the telecom world, but can you tell us a little more about Anne-Sophie Lotgering?
Anne-Sophie Lotgering: "First of all, many people ask me how to pronounce my surname. Everyone is free to pronounce it as they wish, in an English, German, or French style, which suits me perfectly since I constantly juggle between these three languages. And while I haven't yet mastered Dutch, I've made it my goal to do so!"
"On a more serious note, it might seem curious to you that I have a degree in history. I even planned to work as an archivist-paleographer before I encountered the ICT and telecom world. A sector that suits me perfectly."
"After working for Microsoft and then Orange, I recently took over the Enterprise Business Unit at Proximus. It is proving to be a wonderful challenge where I can fully exploit my skills to serve our customers. But there is one small difference; it's on a more national scale, which will translate into even more in-depth work. And this is exactly what I wanted."
Tell us about a person or event that has played an important role in your career.
"Without hesitation, I have to think of one of my managers who played a fundamental role at the start of my career. He taught me the difference between autonomy and independence. He was the first to believe in me and my ability to lead my team, while remaining available to fine tune my work. This is where the word 'autonomy' took on its full meaning as opposed to independence, which would instead translate into a solo project. It's a managerial method that has opened my mind and that I still apply today."
"So I hope that my teams see me as a fair leader, who knows how to show the way while leaving enough room for autonomy."
The mix between the #inspire2022 strategy, the culture and the challenges ahead appealed to me straight away.
Anne-Sophie Lotgering, Chief Enterprise Market Officer at Proximus
What do you think is your greatest professional achievement?
"You might be expecting an answer in terms of market or products, but what gives me the most satisfaction is seeing my people develop. Seeing my ex-colleagues currently in strategic positions or receiving a request from them for advice or coaching, gives me a certain pride. I believe in this transfer of energy to the market and to customers to help them grow. The idea is to grow together, that's what matters in the end."
Why did you take up this new challenge at Proximus and what do you expect from it?
"Honestly, the mix between the #inspire2022 strategy, the open-minded culture and the challenges ahead appealed to me straight away." I will do everything in my power to ensure that my skills and experience act as a lever for my department and our customers. I am fully committed to the digital transformation of our economy. It comes natural to me."
What is the first thing you plan to do in your new role?
"Even though we are in unusual times and are required to maintain a certain distance, my first objective is to follow through with my meeting plan. This involves meeting our partners, customers and collaborators in person as quickly as possible. Having said that, I can already see the opportunities and possible obstacles, and I am in the process of clarifying them in my action plan."
"I insist on meeting with clients and partners, which allows me to support the internal vision through my own outside-in vision. I am not one of those who look back. Together with our teams and partners, I will continue to build on the foundations put in place by my predecessor, but in my own way of course."
How do you see the market developing and what role can Proximus play in it?
"On the one hand, the telecom market is a vehicle for many products and services that are now considered commodities. There is competition from all sides. Whether it's GAFA or other operators, it's clear that the market is in turmoil. And that's without taking into account the unexpected impact of the health crisis, which is accelerating digitization like no one could have imagined."
"More than ever, Proximus has clearly positioned itself as the ICT partner for companies. We represent an extremely solid network and have all the IT and telecom expertise to innovate in terms of connectivity, security and cloud solutions. We are facing an unprecedented opportunity to support all the companies in our economic landscape and guarantee a place for them in the Belgian and even European market."
More than ever, Proximus has clearly positioned itself as the ICT partner for companies.
Anne-Sophie Lotgering, Chief Enterprise Market Officer at Proximus
In terms of strategy, what elements will you highlight?
"We are at the stage of implementing our new strategy. So I work with the teams in a very concrete way to implement the strategic plan and translate it to the segments and different services as well as rethink investments to make them more appropriate."
"In relation to #Inspire2022, I find the aim of extending the fiber network to all users in Belgium particularly appealing. Yes, we were late, but there is a very strong desire to speed things up and get to European level."
"I also very firmly believe in the ecosystem model. Who can still afford nowadays to go at it alone? The deployment of new technologies and the development of the resulting use cases for the various verticals is probably the best example of this."
"Last but not least, the pieces of the puzzle fit together perfectly thanks to the desire to speed up our own digital transformation for the benefit of our employees, but especially for our customers.
I love this dichotomy!"
At what point do you think you will be satisfied in your new role?
"It's very simple: the day I manage to involve all the people who contribute to the success of my department within Proximus. I don't know how to work in a silo, my goal is to include all the players who contribute to its success. For me, increasing the collaborative spirit means boosting UX. And I'm counting on my ExCom colleagues to make this happen!"
If you had the choice, who would you most like to sit beside on a long flight?
"Without hesitation, an avant-garde person who dares to live in accordance with their own values. I am thinking of Marcus Aurelius, and his masterpiece of Stoic philosophy, or why not the British writer Horace Walpole, or even the novelist Nancy Mitford. I admire their strength of character as well as how their daily lives matched their values."
Recently arrived in July 2020, Anne-Sophie Lotgering has more than 18 years of experience in telecom and ICT. As the new head of the Enterprise Business Unit at Proximus, she gets her energy from sports, reading and the success of her employees.
One
One magazine is the Proximus B2B magazine for CIOs and IT professionals in large and medium-sized organisations.
Other articles of One