The MyProximus app, digital partner of your business
All of Proximus in one app, and much more
Manage everything, directly from your smartphone
In MyProximus you can:
Your exclusive customer service
Included in Business Flex
With your exclusive customer service, ask your question only once, an expert will follow it up for you. Get the appropriate advice via the app or get in touch with a Business Expert, via a conversation or via chat. You can check at any time the status of your request.
How to access it via the MyProximus app?
Order a Business Flex pack, download the MyProximus app and register as an administrator on your account. Then, ask your question via the "Contact" button in the top right corner of your welcome screen.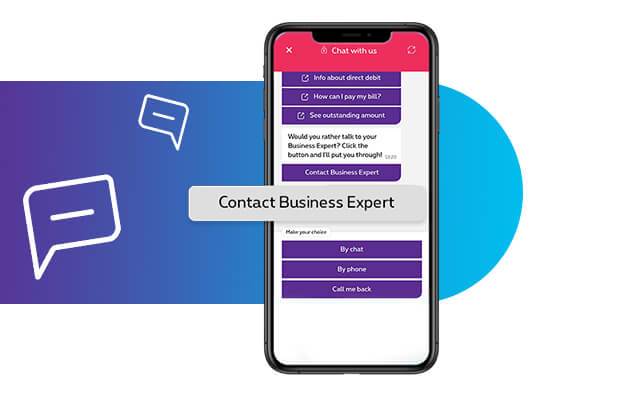 Keep an overview
& manage your products and options in the app
View and pay your invoices directly
Be notified of a new invoice
Pay using the method of your choice
Retrieve your history and download your documents in PDF
Quick check of your usage details
With MyProximus, you can check your usage details at any time and receive notifications when the threshold is exceeded
Do you want more data for your mobile subscriptions? Options to make international calls? It's easy in MyProximus.
Keep working with peace of mind
For greater efficiency
Do you need an insurance for your smartphone?
You can take out the Smartphone Omnium insurance directly in the app. You can also report a claim.
Smart Wi-Fi, anywhere in your office
Seamless connection:
Whatever you do
Regardless of the number of devices used simultaneously
Integration of services beyond your telco
To manage your day-to-day business

Your loyalty rewarded with Enjoy!
Get exclusive discounts and win unforgettable experiences directly via Myproximus. For customers only.
Start like a Pro
Find here inspiring tips and tricks to give your business a kick-start
Parking via 4411 in the MyProximus app
Manage your parking sessions easily and contactless in the MyProximus app with 4411. Billed by minute with no extra charge.
Questions about our offers?
An advisor is at your service