Fabriek Logistiek shows what 5G can do.
Published on 23/11/2021 in Customer Stories 
The warehouse of the near future will be a place for self-driving vehicles, flying drones and people working with scanners and smartglasses. In Fabriek Logistiek, companies can test all these ideas with 5G from Proximus.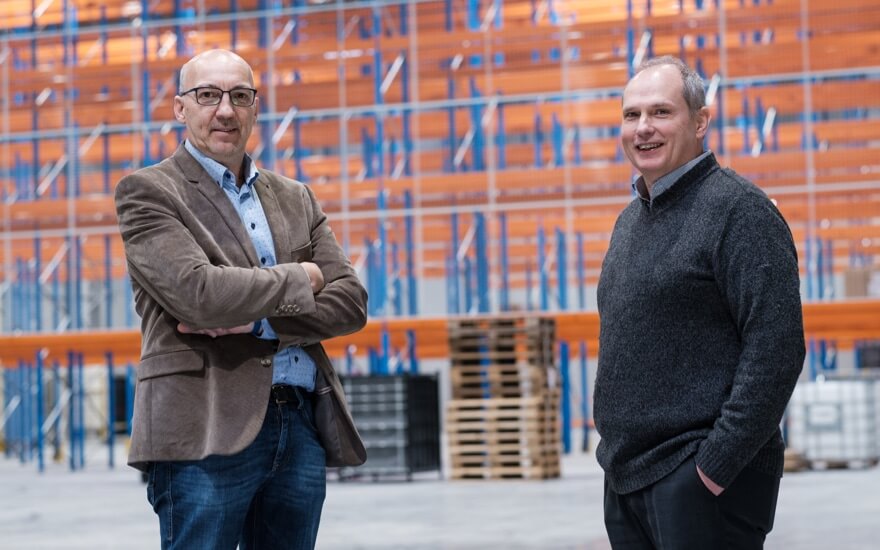 The development agency POM East-Flanders is a pioneer for a sustainable, innovative, future-oriented and climate-healthy East-Flanders. In Fabriek Logistiek, the provincial development company combines two main fields of action.
Firstly, East-Flanders as a knowledge region, thanks to Ghent University, the various technical colleges of applied sciences, and the associated spin-offs.
Secondly, as a logistics hotspot, partly due to the E17, E40, the Scheldt, the Leie and the seaports of Ghent and Antwerp. "A large part of the activities in the port of Antwerp take place on the territory of East-Flanders," says Danny Vanrijkel, Business Development Manager at POM East-Flanders.
Factory Logistics is housed in two brand-new logistics halls, on a new business park in Zwijnaarde. "Companies are given the opportunity to review their logistics processes and to test them in practice on site," said Vanrijkel. Fabriek Logistiek offers an impressive arsenal of possibilities for this purpose. Companies can experiment with various types of warehouse equipment, new systems for picking, applications with smartglasses, scanners, drones, packaging lines, automated guided vehicles, and so on. "We also offer our infrastructure for training courses or for consultants who want to perform tests."
Mobile coverage anytime, anywhere
Automated and optimized logistics processes almost always depend on a reliable, high-performance and secure network. "More and more devices are connected and they are exchanging ever larger volumes of data," says Eric Ibens, Business Development Manager 5G at Proximus. "There is a need for coverage everywhere in the warehouse, so that all kinds of devices, machines and sensors are always connected." Fabriek Logistiek is therefore equipped with an indoor 5G network. "Companies that develop solutions can test those use cases with us on 5G in a real logistics environment," said Vanrijkel.
Companies with ideas for applications that rely on 5G can test them with us in a real logistics environment.
Danny Vanrijkel, Business Development Manager at POM East-Flanders.
Simply put, 5G offers high capacity and speed, thereby enabling the exchange of big volumes of data with very low latency. "We have a very accessible approach," Ibens explained. "Proximus configures the 5G network in a different way depending on the desired test setup. Sometimes it will mainly send a lot of data back and forth, other times speed will get the upper hand, and the next time the possibility to work simultaneously with many connected objects." Six 5G antennas are provided in the pallet warehouse, and two are installed in the multi-purpose logistics hall.
In the warehouse of the future, more and more devices are connected and they are exchanging ever larger volumes of data.
Eric Ibens, Business Development Manager 5G at Proximus.
Co-creation with experienced partners
Companies that want to experiment with new applications will have the opportunity to refine their ideas for applications with 5G in total discretion, together with the POM and Proximus. "And this is how we arrive at co-creation", explained Vanrijkel, "whereby the POM offers the infrastructure, and experienced partners such as Proximus provide the necessary expertise." Interest in 5G is also still developing in the logistics sector. "But the possibilities are certainly there," Vanrijkel continued.
For example, to drive an automated guided vehicle at full speed – yet safely – through a warehouse, you need a network that guarantees data exchange without noticeable latency. "The added value of 5G for the sector lies in those kinds of applications," Vanrijkel concluded. "That is what companies in Fabriek Logistiek can see with their own eyes."
Danny Vanrijkel is a commercial engineer. He works as a Business Development Manager at the POM East-Flanders.
Eric Ibens studied electronics and business economics. He is Business Development Manager 5G at Proximus.
Do you have plans for a 5G project? Proximus recently launched the unique 5G innovation platform. Here you can test your 5G projects before making further investments.
One
One magazine is the Proximus B2B magazine for CIOs and IT professionals in large and medium-sized organisations.
Other articles of One