The traditional office is fast disappearing
Published on 18/03/2019 in Inspire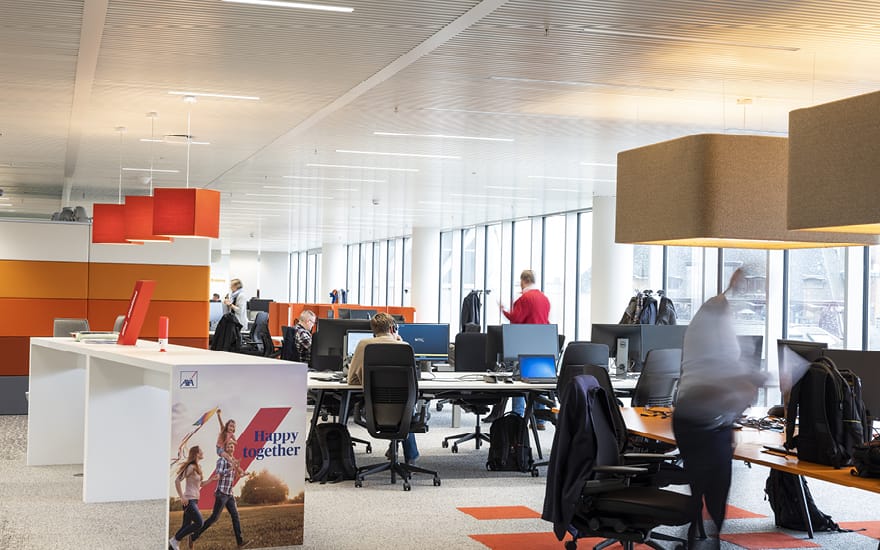 The term smart building points to the start of a far-reaching development. The highest common denominator is not hard to find: it's about the optimal use of buildings. But will companies soon still build and run their own offices?
Before we seek an answer to this question, we take a look at the reality of the current situation. "Putting in a new workstation is, of course, expensive," says Jan Sonck, Head of Enterprise Innovation at Proximus. "Those who succeed in making optimal use of the available space in a building are doing good business." A homeworking policy means that a company no longer has to provide a workstation for every member of staff.
"Six or seven workstations per ten employees can sometimes be enough. And, of course, that means substantial savings." The government is encouraging the exercise. In the near future, companies will have to disclose certain data to third parties, including on energy consumption and the occupancy level of a building. That will stimulate innovation and enable third parties to devise solutions to make optimal use of the available buildings.
Download the IoT starter guide and find out, in a nutshell, everything about IoT.
Physical and digital
"We firmly believe in the further automation of buildings," says Jan. "IoT will play a key role here, e.g. in the context of the new way of working. We are seeing the traditional boundaries between the physical and the digital world becoming blurred." The result will be buildings that are smart by design: not just for the organization of work areas (booking meeting rooms) and receiving guests (reserving parking), but also for security (access control) and measuring use and consumption (of energy in particular).
"In the future, companies may well take the initiative to build themselves less often while independent, specialized providers of smart offices will hold a more prominent position in the market."
If you look a step further than this, you see a development towards a model that focuses entirely on variability. "Along the lines of Airbnb, companies will increasingly offer their surplus capacity on digital platforms," Jan continuous. "Those who need workstations for co-working can book them online."
This results in a model where the employer allocates his staff a budget for mobility and a workstation, which the staff member can then spend in line with his own needs. "We see this trend clearly emerging. Companies that have empty floors or offices are already often opening them up to external users."
Applications for digital twinning are available in the cloud and the price of sensors is falling quickly. That lowers the threshold.
Jan Sonck, Head of Enterprise Innovation at Proximus
Simulating with digital twins
Measuring is knowing. Analyzing the data from a measuring point in the building – sensors that measure the temperature, the number of people in a meeting room, etc. – provides fresh, new insights. This gives the manager a digital twin of the building: a digital version that not only helps with administration but also makes it possible to simulate the impact of certain interventions.
"Suppose you want to boost the occupancy level of a building by 20%," says Jan. "With the digital twin, in the future, you will be able to simulate what impact that will have on the occupancy level of the meeting rooms, fire safety, the company restaurant, the car park, etc."
The digital twin enables a company to examine and fine-tune a number of scenarios before actually taking a particular step. Among other things, the digital twin is particularly useful for conducting simulations on safety. With large-scale projects – such as football stadiums or shopping centers – that is an approach that is now often used. "The technology is accessible," Jan goes on. "Application elements for digital twinning are available in the cloud and the price of sensors is falling quickly. That lowers the threshold for producing digital twins."
The software players, in particular, are focusing sharply on this. Among others, Microsoft is promoting Azure as the solution that creates the link between physical and digital via IoT. Jan does not fear overkill in terms of new applications in the immediate future. "Of course, it's still sensible to look at a project involving a digital twin pragmatically. Investing in technology that you then won't use is never a good idea."
Jan Sonck has been working in the IT and telecoms market for 30 years now. He has been Head of Enterprise Innovation since 2014.
IoT applications help create an environment in which we can live more comfortably and work more efficiently.
One
One magazine is the Proximus B2B magazine for CIOs and IT professionals in large and medium-sized organisations.
Other articles of One