Be-Mobile crucial link as part of smart traffic guidance in Ghent
Published on 14/02/2022 in Innovate 
The City of Ghent is implementing a new, smart traffic control system. It provides real-time information about the current parking and traffic situation, and more, and thus contributes to smooth mobility. Be-Mobile plays an important role in this.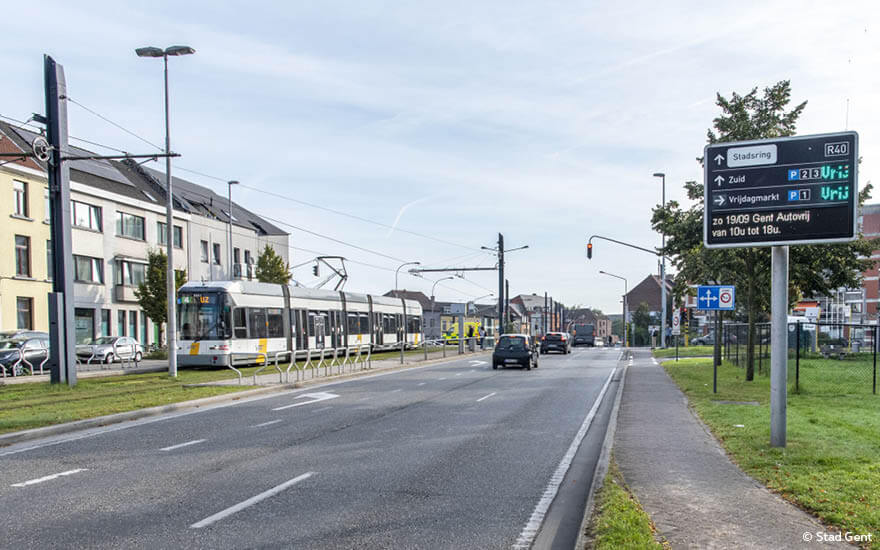 The City of Ghent will soon be replacing its current digital signs with parking information with fifty new full-color LED screens. These digital signs provide visitors and residents with current parking information as well as info on traffic disruptions, real-time travel times, traffic jams, public transport connections, and more.
Reduce traffic circulation
With this project, the City of Ghent meets the current and future needs in the field of traffic management and analysis. According to Filip Watteeuw, Alderman for Mobility at the City of Ghent, it will limit the number of cars looking for parking in the city and further reduce traffic pressure. "For example, a driver might more quickly decide to use the park-and-rides."
Open data
The traffic control system includes the ability to link third-party information to the system. Since the City of Ghent makes the information available through open data, parking apps and route planners can also integrate the information within their systems.
Smart mobility
The implementation of the new traffic control system is handled by JacopsNew window, a company specializing in the installation of intelligent traffic infrastructure. Jacops relies on the software and expertise of Be-Mobile for the new management system.
Be-MobileNew window, with Proximus as the majority shareholder, unites various traffic applications such as parking and traffic control under one roof. The smart mobility service provider helps traffic managers make traffic safer and smoother by harnessing the power of connected vehicles and travelers.
Thanks to data analytics, the City of Leuven gets a better view of the crowding pattern within spacious zones in the city. This allows merchants, for example, to optimize their staffing levels.
One
One magazine is the Proximus B2B magazine for CIOs and IT professionals in large and medium-sized organisations.
Other articles of One