Towards first Belgian supply chain with net-zero CO2 emissions
Published on 19/07/2023 in News 
Proximus has set the goal of becoming the first Belgian company to achieve net-zero CO2 emissions in its supply chain by 2030. Supply Chain Manager Virginie Huber explains what initiatives are helping to achieve that goal.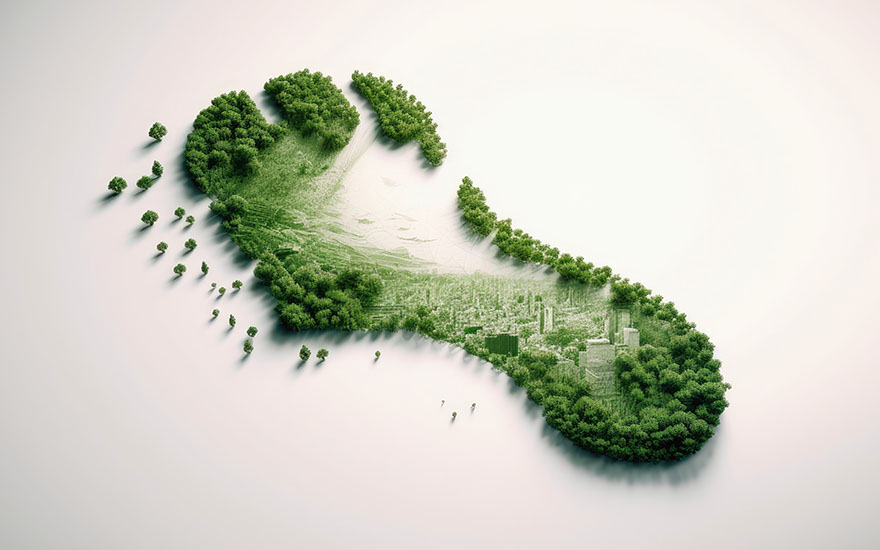 Proximus first added 'sustainability' to its corporate strategy in 2020. "We are deepening that focus in the new strategy, #Bold25. Our mission statement stipulates that we want to be circular by 2030 and reduce greenhouse gas emissions in our entire value chain to zero by 2040. For our logistics, we want to be the first in Belgium to achieve net-zero CO2 emissions by 2030", explains Virginie Huber, responsible for the 'Sustainability' section in Logistics.
We and our partners are on the path to an optimized supply chain with net-zero CO2 emissions.
Virginie Huber, Supply Chain Manager at Proximus
Actions in storage, transportation and circularity
Proximus drew up a roadmap with various initiatives. "These actions are situated within our entire logistics chain. For example, we are focusing on greening transport and storage, but also on the circularity of products - including product design - and through repair and refurbishment."
Virginie: "We are not alone on the path to an optimized supply chain with net-zero CO2 emissions from the central warehouse in Courcelles. We have a very good ecosystem based on close collaboration with our partners. H.Essers facilitates the location, warehouse, staff and most of the outbound transport. CTDI is our in-house repair partner, and customization company Entra insures we have sufficient manpower".
The greening of logistics operations in Courcelles revolves around three axes: storage, transport and circularity.
Concrete initiatives
Warehousing/building
Installation of solar panels
Installation of energy-efficient LED lighting
Transport
Greening of transport at the largest logistics service providers (H.Essers, bpost and DPD).
Switching from Euro5 to Euro6 vehicles, switching to electric vehicles, deploying cargo bikes to deliver to retail outlets, launching CULT (Collaborative Urban Logistics & Transport), in which different companies consolidate their goods on the outskirts of the city and then deliver them to the city sustainably.
Transport optimization.
Commit to using High Cube containers that bundle more products, resulting in 10 to 20% less CO2 emissions.
Added value services
Start up, fine tune and expand in-house repair & refurbishment.
Firmware updates on a large scale so that installation for the customer goes smoothly. This improves both customer experience and service, and reduces installation time.
Packaging
Implementation of 'Ship AS IS' boxes: with a simple plastic film around the marketing packaging, no additional box is required for transportation.
Optimize packaging content and size.
Shift from cardboard boxes to reusable plastic bins for transport to our own retail outlets.
Use of reusable and returnable pallet covers, eliminating the need to wrap pallets with plastic foil.
Investment and market pose challenges
The shift to a supply chain with net-zero carbon emissions comes with its challenges. Virginie: "It's important to give your partners time to make certain investments. Long-term collaborations, a joint roadmap and a step-by-step approach have certainly helped us. Through our Supplier Engagement Program, we engage and support our suppliers to reduce our collective impact on the environment. In terms of making transportation more sustainable, the evolution of the green vehicle market is obviously an important factor as well".
Some results:
A CO2 reduction of 826,500 tons (or 36%) between 2015 and 2021
CO2 reduction of 55% per order
12,500 tons of CO2 saved due to in-house repair & refurbishment.
80% reduced installation time at customer premises
2020-2022: 546 tons of cardboard saved thanks to Ship AS-IS
Future steps in sustainability
In 2022, Proximus saw its efforts rewarded by becoming the first Belgian company to be awarded the prestigious 'Lean&Green 3 stars' label. However, this is by no means a signal to rest on its laurels. Virginie: "We're trying to focus even more on circularity by expanding our refurbishment activities, for example. In addition, we continue to work with our various logistics partners to make both transport and our operational activities more sustainable. Proximus also wants to evolve even further in terms of energy transition, both for our buildings and for transport".
As Supply Chain Manager, Virginie Huber is responsible for the Sustainability section in Logistics.
As an ICT partner, Proximus is focusing on six key SDGs where we have the most impact and can make the greatest contribution: quality education, gender equality, economic growth and employment, infrastructure and innovation, sustainable consumption, and production patterns & climate change (SDGs 4, 5, 8, 9, 12 and 13).