Camin Cargo Control opts for carefree smartphone management
Published on 01/12/2020 in Customer Stories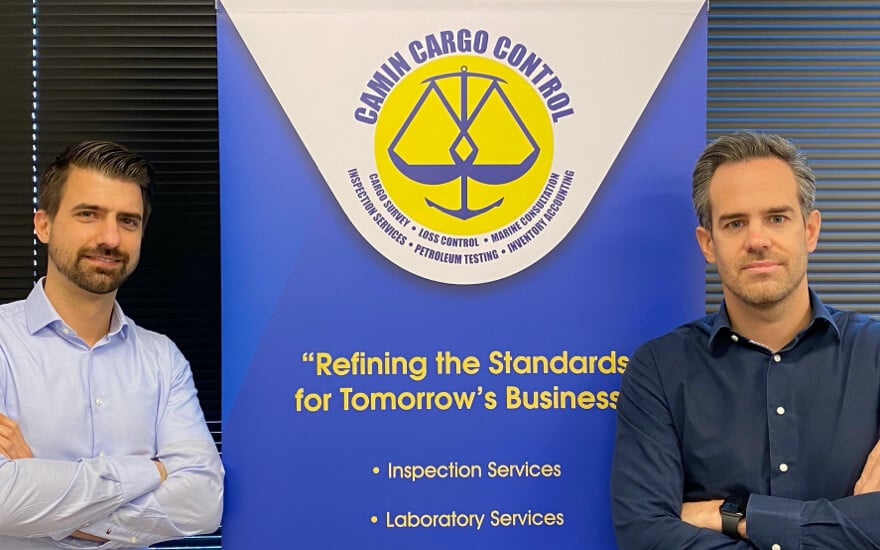 The more the Camin Cargo Control team grew, the more work seeped into managing the fleet of smartphones. The company has kept the cost of its smartphone fleet under control for a while now, thanks to Proximus Engage Packs.
Camin Cargo ControlNew window is a U.S. company headquartered in New Jersey. The company has been active in Europe since 2018 with offices in Antwerp and Rotterdam and a team of forty employees. Camin Cargo Control operates within the petroleum industry. It carries out inspections for refineries, traders, shipping companies, logistics service providers, and fuel suppliers. These inspections concern verifying the amounts delivered and product quality. If it turns out that the required specifications have not been met, Camin Cargo Control provides the necessary additives – and accompanying instructions – to ensure cargo compliance.
"Digitization is expanding exponentially in our sector too," says Joeri Geurts, President of Belgium & The Netherlands. "Our inspectors visit the site, a site with storage tanks, for example, and take measurements and samples. They collect the data required for reporting to customers, suppliers, customs, etc. in an online application." Performance data not only generates input for reports but is also forwarded to Camin Cargo Control's financial department, which is how it features on the client's bill.
The more our team grows, the more work seeps into smartphone management. That's why we contacted Proximus.
Andy Van Damme, VP Finance Belgium & The Netherlands.
The expanding smartphone fleet
Nearly all of Camin Cargo Control's operations are based in the cloud now. Test results from the company's labs, contracts, and other documents are all located in a central cloud application. Camin Cargo Control chooses to work digitally wherever possible. "However, our sector still involves the circulation of reams and reams of paper," said Joeri Geurts. "That's why our inspectors take a smartphone, laptop, and a mobile printer on the road with them to, for example, hand over hard copies of the required documents to the ship captain."
"We used to simply purchase the smartphones ourselves," said Andy Van Damme, VP Finance Belgium & The Netherlands. "Not only does that require a certain investment, but the more our team grows, the more work seeps into managing the fleet of smartphones."
Engage Packs
That was what motivated Camin Cargo Control to make the switch to Engage Packs, a lease plan that bundles a smartphone, warranty, and insurance for a set price. Connectivity is guaranteed by the Proximus mobile network. "Stress reduction is the keyword here," explained Andy Van Damme. "Employees always have a decent smartphone and don't ever have to stress about it, even if the device is broken or lost."
At the same time, the Camin Cargo Control plan facilitates accurate predictions and management of the smartphone – mainly Samsung and Apple devices – fleet's costs. The company also has access to the helpdesk of the Proximus partner UfirstNew window and there is no hassle involved in the device settings and security.
Our employees always have an up-to-date device, which means we'll even be ready for 5G when the time comes.
Joeri Geurts, Camin Cargo Control President of Belgium & The Netherlands
Guaranteed continuity
"Smartphone delivery happens seamlessly," said Joeri Geurts. "It's all done through a portal, which is incredibly intuitive and transparent." For Camin Cargo Control, it simply makes work a whole lot easier. "Continuity is always guaranteed," said Andy Van Damme. "An employee receives a replacement device by an agreed deadline. We also know that Proximus always has the required devices in stock, which guarantees their accessibility."
Camin Cargo Control went for a three-year Engage Packs formula. "That way our employees always have an up-to-date device," Joeri Geurts concluded. "For instance, the new iPhone already features 5G communication. In the process of replacing devices, we'll automatically be ready for the transition to 5G too."
Andy Van Damme studied business. He has been Camin Cargo Control Vice President of Belgium & The Netherlands' Finance Department since 2018.
Joeri Geurts graduated with a master's in law and maritime sciences. He has been employed at Camin Cargo Control since 2014 and has been President of Belgium & The Netherlands since 2018.
Combine smartphone and subscription
Choose the latest smartphone with the mobile subscription that suits you!
As from €57.02
Stay connected through the best network
Choose a mobile subscription that fits your business' needs.
Unlimited calls and access to 5G from €24
One
One magazine is the Proximus B2B magazine for CIOs and IT professionals in large and medium-sized organisations.
Other articles of One