AI in companies: the current situation
Published on 20/06/2019 in Inspire 
Artificial Intelligence (AI) has been around for decades, but the rise in computing power promises whole new ways of using AI. Hence business is ripe with hype.
Early adopters are spreading AI adoption from value chain to value chain, across all industry sectors. But what are these companies investing in exactly and how do they manage this complex transformation? Microsoft and EY investigated the current state of AI with European and Belgian companies.
1. Current role of AI in business
How important is AI?
Microsoft's report has shown that 90% of respondents in Belgium and Luxembourg say AI is considered an important topic with executives, but only 43% with managers and a mere 19% with employees. The reason might be that employees still share job insecurities about AI, and that AI is still very much an abstract notion to them.
Not surprisingly, AI ranks high, but not highest, on the digital priority list. Priority is firstly given to collecting, storing and understanding data. Seventy-six percent of Belgian companies have, however, initialized successful AI pilot projects or have started using AI applications in their daily operations.
Where is AI currently deployed?
Most AI in Belgium is currently either deployed in IT (52%) or R&D (43%). Employees in R&D are often engineers with a proper understanding of and interest in AI. Very occasionally AI is also deployed in customer-facing and commercial functions like marketing, sales and customer service. But it is expected that these departments will make much more use of AI in the near future.
How is AI put to use?
Firstly, 76% of respondents state that the main use of AI is to predict. For instance, AI can proactively and accurately predict which customers could leave. Secondly, 62% of respondents say AI is applied in smart automation mainly to automate logistics. The third main use for AI today is in generating insights, which in Belgium rates equally with automation at 62%. For example, AI significantly contributes to forecasting product demand. Finally, at 38%, AI is used to personalize the user experience, or to introduce chatbots to customer service.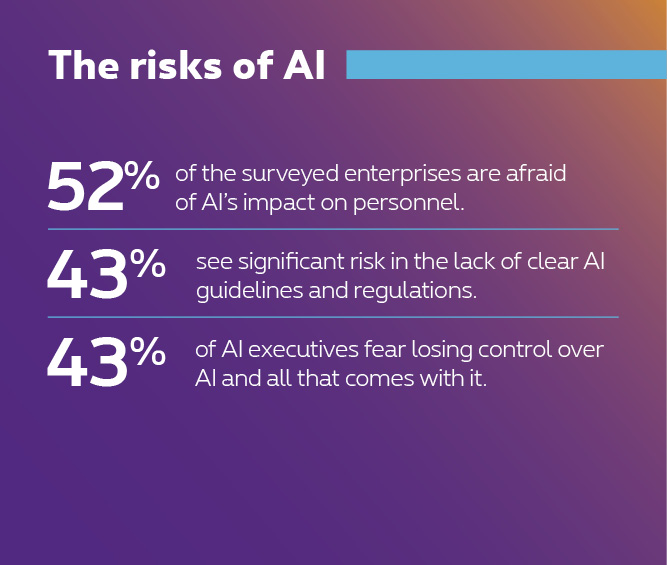 2. Problems and advice from early adopters
The main problem that all companies share is a major lack of skilled workers to meet the demand for AI expertise. Hence many have either opted to seek external partners or they adopt a wait-and-see strategy. But pioneers advise not to rely upon external partners before having internal people who can properly evaluate their data.
Also, adopting a wait-and-see strategy can prove risky, as the longer you wait, the harder it is to get the right people. If you do choose to form a relationship before you have in-house expertise, try academic partnerships, as they come with innovative and reliable ecosystems with a lot of potential.
The problem with data
Another main problem facing companies is the governance of data, specifically who owns it, how it is stored, how it is accessed and who can access it. This includes external hurdles like privacy regulations (GDPR) and AI regulations, but also internal hurdles like organizational 'silo thinking'.
Early adopters advise leaders to support collaboration through projects. Deconstruct decentralized data storage and introduce a centralized system where data is readily accessible. Cloud solutions can be a helpful tool here. Meanwhile the C-suite should focus on defining data governance and strategy, so that the company is not hindered by a lack of clarity. Finally, build your data structure to incorporate unstructured data, even from external sources.
Not enough agile AI leadership
The third most common problem is that AI leadership is lacking in the C-suite department. Leaders need to understand the impact AI has and needs to have on business. Change management should happen bottom-up. Leaders can support this by articulating a clear vision, by setting goals and securing a broad buy-in across the organization.
In general, the company approach should be agile. So, break down silos and accept that leadership will lose control. Motivate exploration by starting experimental pilot projects and use cases with uncertain outcomes to learn where value is hiding and be prepared to adjust the company direction more frequently. The transformation is not immediate, it is continuous.
Source: © Ernst & Young LLP in accordance with Microsoft, 2018
Read the full report on AI of Microsoft and get insights of several statistics.
One
One magazine is the Proximus B2B magazine for CIOs and IT professionals in large and medium-sized organisations.
Other articles of One