"Steal Like An Artist" by Austin Kleon
Published on 22/02/2017 in Inspiration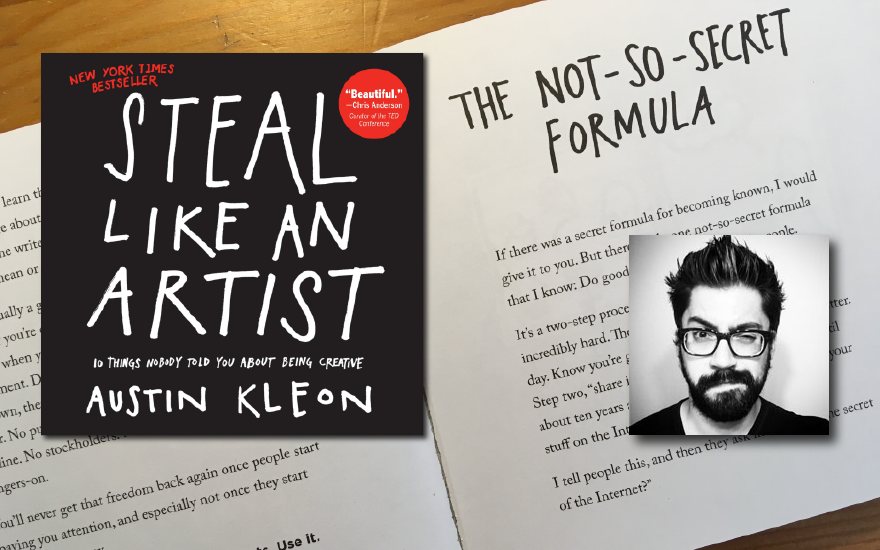 "Creativity" is not your thing? Oh yes it is! Anyone can come up with new stuff. In "Steal Like An Artist", artist and author Austin Kleon shows how you can do that. Funny when possible, confrontational when necessary… A must-read for anyone who's called upon to have an original thought once in a while.
What's the book about?
No idea is original, and everything's been done before. That's the bad news. Good news, according to Austin Kleon, is: that doesn't have to be a problem at all. Especially in these digital, connected times it is incredibly easy to be inspired by others and expand their vision in your own way until you get something fresh and new.
Kleon hands readers ten basic tips to get to grips with that train of thought. Some are quite obvious: "Do good work and share with people" or "creativity is subtraction". Others go a bit further: "Side projects and hobbies are important" (because they can inspire you) or "Be boring" (because that's the only way to finish up your work).
For each tip, Kleon provides illustrations, quotes, examples and insights, all brought together in a compelling graphic style. OK, just one more for the road: "What is originality? Undetected plagiarism." (William Ralph Inge).
Why you should read this book?
In many of businesses, a lot of time and effort is spent in workshops, meetings and brainstorm sessions to induce "creativity" or to "go off-book" or "think outside the box" and "leave the trodden path".
In reality, a lot of managers and workers don't really understand what creativity is (about). Often, it's narrowed down to art, music, photography, poetry or eccentric geniuses. But Kleon shows that, with a few obvious tips, "regular people" can be creative as well.
The most important is: be yourself, keep your eyes and ears open at all times and allow yourself to be inspired by others. Always keep a notebook in your pocket. "Borrow" ideas, but make sure you make them your own. And try to get your creativity going. Sometimes, by focusing on other things, by allowing boredom to slip in or by working like a madman (you know: perspiration and inspiration…).
And: be aware that creativity can be applied very broadly. It's not just about poems or paintings. Creativity is also in the way you draft an invoice, how you furnish your shop, or how you provide after-sales service to your customers.
About the writer
Austin Kleon was born in Circleville, Ohio, and worked as a librarian, web designer and copywriter before he put his focus on writing.
"Steal Like an Artist" came out of a lecture he once gave to students at Broome Community College in New York, in 2011. The lecture was centred on 10 things "he wished someone had told him when he was 19." The lecture ended up on Kleon's own blog and quickly attracted a following, which made him decide to turn it into a book. That book got onto the New York Times Bestseller list and has been translated in over 20 languages.
Kleon, nowadays, is often asked to elaborate on his ideas at conferences for a.o. Google, Pixar or The Economist.
Questions about our offers?
An advisor is at your service