4G quality
Connected everywhere
Stay connected everywhere thanks to 4G
Even in tunnels
Also inside
4G everywhere and the first 5G network in Belgium
4G Outdoor
The Proximus 4G network covers 99.9% of the Belgian population and we are deploying the first 5G network in Belgium.
Deep Indoor
Coverage not only behind the window of your office, but also at the spot within the building where you really use your mobile device every day1.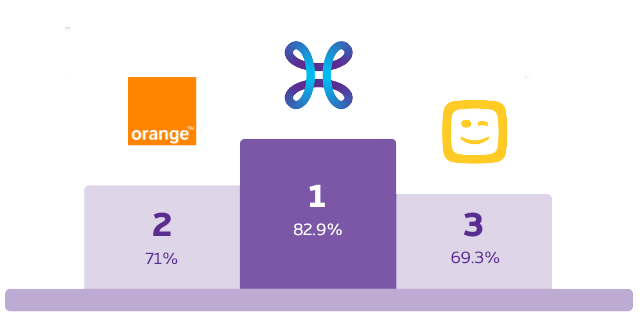 Even where you don't expect it
Top reception in tunnels
Be reachable everywhere without interruptions. We provide a top reception in the main tunnels, the Brussels small ring and the Antwerp Kennedy tunnel.
Also inside
The increasingly stringent insulation requirements make new office buildings almost impenetrable for mobile signals. Yet there are solutions.
Agristo
"This perfect mobile coverage will make it possible to collect data via IoT, so we can carry out preventive and predictive maintenance."
Martijn Mennen, CIO at Agristo
Tersec
"We make sure that the people in command receive the camera images from the drone on site in real time. That way, they can always take an accurate decision based on real-time data."
CEO Tom De Jaeger at Tersec
Combine smartphone and subscription
Choose the latest smartphone with the mobile subscription that suits you!
As from €57.02
Stay connected through the best network
Choose a mobile subscription that fits your business' needs.
Unlimited calls and access to 5G from €24