Captivated by tire pressure
Published on 07/06/2018 in News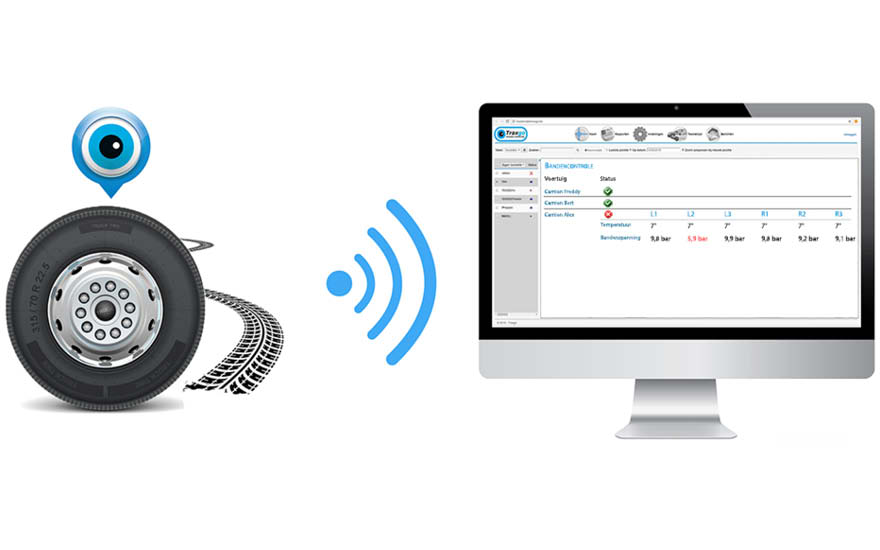 Sensors to check the tire pressure on trucks have been around for a while now. But how does this data reach dispatching wirelessly and in real time? Traxgo in Anzegem makes this possible thanks to the Proximus M2M network.
At the start of this year, the West Flanders technology company Traxgo brought a system onto the market with which trucks can automatically send their tire pressure and temperature to dispatching. 'We take up the Continental ContiPressureCheck system," says Traxgo's Frederik Depuydt. 'These sensors have been on the market for a while now, but the alarm they sound when something goes wrong with the tires only goes off in the cab of the truck. Apparently, drivers sometimes just ignored it, because they didn't have time to deal with it, or didn't feel like it. With our system, dispatching too knows instantly that something is wrong.'
To send the data through, they use the Proximus M2M network (machine-to-machine). 'Our solution sends through the tire pressure of trucks and trailers,' says Frederik. 'What's more, we've adjusted it so that you know exactly which tire is affected. In a certain configuration, the original system only gave a general alarm for the tires on the trailer. Using the sensors on the trailer, we even know which trailer is being pulled. Since the start of this year, we have already installed the system close to a hundred times.'
Subsidies
There is a simple reason why haulers put so much effort in keeping an eye on the tire pressure. 'The correct pressure results in about eighteen per cent less wear and five per cent less fuel consumption. Because we help prevent blowouts, there are fewer accidents, less congestion and trucks spend less time standing still. Therefore, haulers who install the system are subsidized by the government.'
Proximus is the biggest and most experienced player on the connected objects market. 'Traxgo didn't really come across any major difficulties or obstacles when developing the system', Frederik says. 'We have only ever worked with Proximus, right from the start, simply because the network is so reliable. The challenge was that some customers soon asked if we could send additional data too. So, for instance, the possibility of putting the inside temperature of a refrigerated truck on the network has recently been added. But those are challenges we are happy to take on."
Advantages of sensors in tire pressure
Easy installation subsidized by the government
Tire pressure measured everywhere, all the time
Less consumption, less wear, fewer accidents
Possibility of sending additional data
Traxgo was established in 2003. Back then, the company provided mainly 'ordinary' track & trace services, initially using text messages because data was still too expensive. Sixteen people work there now.
Frederik Depuydt studied Commercial Science at HoGent and is Business Development Manager at Traxgo. He joined Traxgo in 2004. In his "free time" he likes to play sports.