Smart investment means working smarter
Published on 13/06/2015 in Solutions & services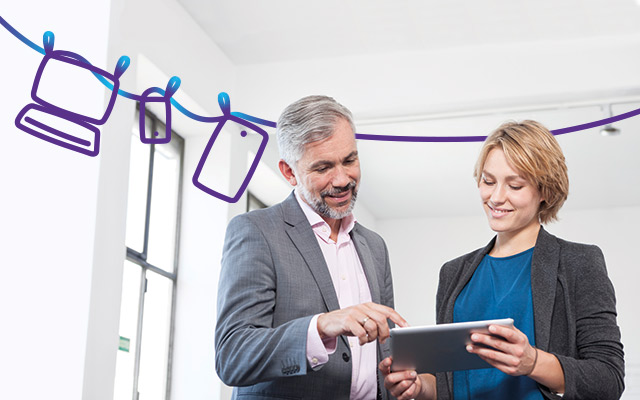 As a company you always want to stay one step ahead of your competitors. Efficient innovation to improve processes and cut costs is crucial. If you can make your employees more productive too, that's an added bonus.
The new Engage Packs are total packages that combine a leased device (smartphone, tablet, laptop or hybrid device) with related services for a fixed price per month. For example, you can offer your employees a tablet with technical support on various levels. So that they can count on a central helpdesk, central management, configuration, insurance, guarantee and repair of the device. The standard package can be expanded with extra applications and services, mobile connectivity and communication and collaboration tools.
The IT manager: "Since the Engage Packs are an all-in-one offer of hardware and related services, I don't have to invest any time in that myself. So I can concentrate on tasks and projects with more added value for my business. In addition, I always have a central point of contact for questions or problems, that's easy."
The HR manager: "Our employees can now work en route, with the customer or at other locations too. That flexibility is greatly appreciated, so their motivation and productivity increase. The possibilities of the Engage Packs also help attract new employees. In addition, newcomers can get to work right away with the right device and the right applications."
The financial manager: "Thanks to the Engage Packs there's more transparency with regard to our expenditures. We lease the devices at a fixed price per month and so don't need to purchase any ourselves. In addition, the solution is easy to integrate into our existing IT infrastructure so that, there too, no extra expenditures are needed."
Business benefits
New Way of Working (NWoW): working flexibly, which boosts employee motivation and productivity
Cost efficient
Positive effect on the company's image
Easy to integrate into the existing IT infrastructure
One
One magazine is the Proximus B2B magazine for CIOs and IT professionals in large and medium-sized organisations.