Deloitte building lands at the airport
Published on 05/04/2019 in Customer Stories 
Two years ago, Deloitte Belgium moved to the brand-new Gateway building at Brussels Airport. Gateway expresses the firm's vision when it comes to mobility and a sustainable society.
The new building was designed with special attention to employees' well-being. For example, it offers services such as the canteen, the Tarmac Café and a fitness area, and uses ergonomic furniture. "We offer an inspiring setting for our employees, clients and visitors," explains Karl Fabry, CTO of Deloitte Belgium.
"That was also what we had in mind for the central atrium, with the work of art called 'Stilthouse' by Arne Quinze. We identify with the themes that Quinze works with: dialogue, sustainability and diversity." The building substantially improves the collaborative dynamics between employees and clients. Various kinds of spaces are available: from a small room for a personal conversation to an auditorium that holds 199 people.
How can you start with IoT?
Inspiring setting
Technology also plays an important part, of course, in supporting better collaboration. Thus, digital signage is provided at reception, in the atrium and on every floor. For example, Deloitte posts its welcome message in the atrium for clients who come to visit. Commuters can consult the train schedules there as well.
With follow- me printing, employees can easily use the nearest printer. Karl: "And then there is The Greenhouse, a space where employees can invite clients to test new, innovative digital applications. In our role as consultants, we wish in this way to do our part for sustainable development and better mobility."
We have a space where employees can invite clients to test new, innovative digital applications. In our role as consultants, we wish in this way to do our bit for sustainable development and better mobility.
Karl Fabry, CTO at Deloitte Belgium
Much more than wireless connectivity
At the Gateway building, Deloitte opted for an innovative, fully managed Wi-Fi solution. "This involves much more than just a wireless connection to the company's network," Karl notes. "We use the Wi-Fi network in other ways as well. Via a sensor, we measure the number of people using a given area, such as the restaurant or a floor." The installation is based on a central wireless controller and 450 access points that communicate with each other.
"The access points exchange information about the quality of the signal coverage, for instance, and the number of connections. This allows them to optimize the connection for the benefit of roaming devices throughout the network." The use of new technologies further emphasizes the importance of data.
"We thoroughly test every new app that we wish to use in order to take stock of any risks that may arise. If confidential client data are involved, we go through a series of security checks in any case, such as data encryption, multifactor authentication and penetration tests." A second aspect of our approach has to do with privacy and confidentiality. Naturally, Deloitte complies with the GDPR legislation. Only once an app is given the green light across the line will the firm start using it.
Beyond technology
"It is important that we devote a lot of attention to the user experience," says Karl. "Proximus helps us look beyond just the technology." If a firm wants to lend optimal support to the user experience, it has to look at the entire technological issue from beginning to end, including all mutually interdependent systems and applications. "It is with this in mind that we continue to invest in improving the work environment and work experience of our employees," Karl continues. "Today – and in the future – technology will play a role more crucial than ever."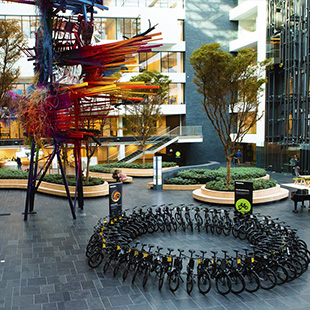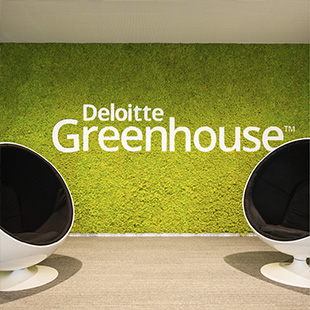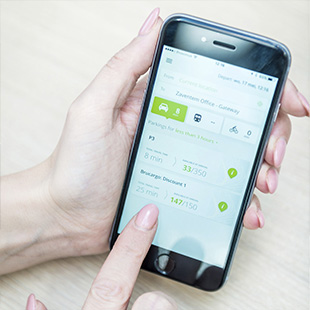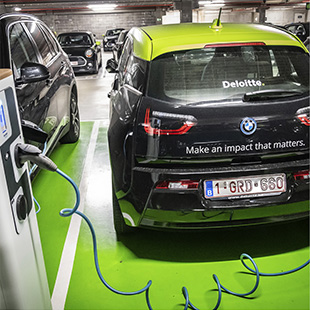 Innovative in every sense
Both the location at the airport and the design of the building are eye-catching. And that's not all. "Gateway is a statement. The building demonstrates how we are reducing our carbon footprint and committing ourselves to enhancing mobility," according to Karl Fabry, CTO at Deloitte Belgium.
With Gateway, Deloitte is replacing four older office buildings. The move itself has enabled the company to reduce its CO2 emissions by 40%. This was partly the result of the use of free cooling – a technique that uses outside air to cool the interior. This allows Deloitte to make considerable savings on the use of mechanical cooling.
Accessibility is key
Gateway is easily accessible by train and bus. "We are increasingly involved in international projects. That, too, has now become that much easier. Our office is just a few minutes' drive from the airport's departure lounge." There is parking for bikes in the building, along with spaces for carpools and charging stations for electric cars. "At the same time, not everyone has to come to Zaventem," says Karl. "We have 12 regional offices dotted around the country. This enables employees to plan their movements conveniently. Many employees also work on location at clients' premises."
Get to work
Technology makes life easier. Deloitte's employees use the same applications on their laptop, tablet and smartphone, thus enjoying greater flexibility, including when they work remotely. When they are heading for the office, the Get To Work app shows them the most efficient route. The app helps employees not only with navigation, but also with the choice of the most suitable means of transport (car, public transportation, bike) and provides information about the availability of parking.
Download the free ebook the digital workplace
Deloitte is an international group of professional service providers in the areas of accountancy, auditing, consulting and financial advice. In 2018, Deloitte, with its 286,000 employees worldwide, reported a revenue of €43.2 billion.
Karl Fabry studied electromechanics and holds an MBA. He has held various positions with Deloitte, both in Europe and worldwide. Since 2018 he has been CTO of the Belgian branch of Deloitte.
One
One magazine is the Proximus B2B magazine for CIOs and IT professionals in large and medium-sized organisations.
Other articles of One