The first connected taxis on the market
Published on 06/02/2017 in News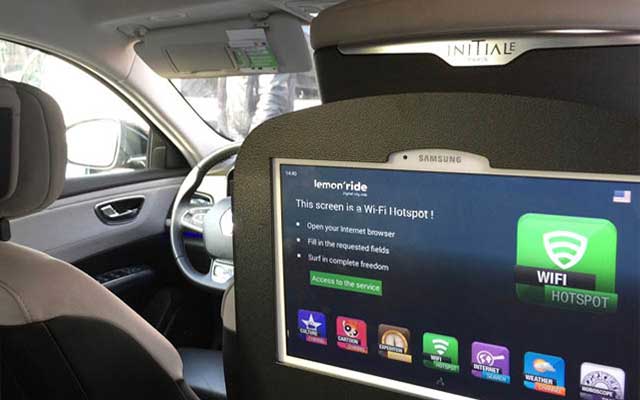 They're here: the first connected premium taxis transform the passenger's ride into a digital entertainment moment thanks to the Proximus 4G network.
Vehicles equipped with a broadband connection have 4G tablets offering premium passengers innovative new VIP functions. The geotargeted contextual experience is unique.
On board, a media platform developed in SaaS mode (Software as a Service) interacts with the passengers' centers of interest. So secure multilingual web content can be provided: live European news, themed broadcasts, digital press, entertainment, search engines.
Streaming via 4G
The tablets in the back of the car serve as hot spots. Once the profile has been established, the streaming technology (developed in Belgium) enables passengers to access customized media content in real time. Access is fully secured thanks to 4G technology and an SaaS platform.
Proximus and Lemonride
This innovation is the result of a partnership agreement between Proximus and the French startup, Lemonride. This first connected services hub on board premium taxis benefits from 4G network technology and the best coverage, Proximus coverage. Passengers can surf freely thanks to on-board Wi-Fi using an app that secures Internet exchanges.
Welcome to the future
With competition on the passenger transport market only just beginning to change, this technical revolution is an excellent way for companies and drivers to stand out by offering a reliable connected service with high added value for the client. The system enables total interaction between the passenger profile detected (in total transparency) and the media content to be offered proactively.
One
One magazine is the Proximus B2B magazine for CIOs and IT professionals in large and medium-sized organisations.
Other articles of One