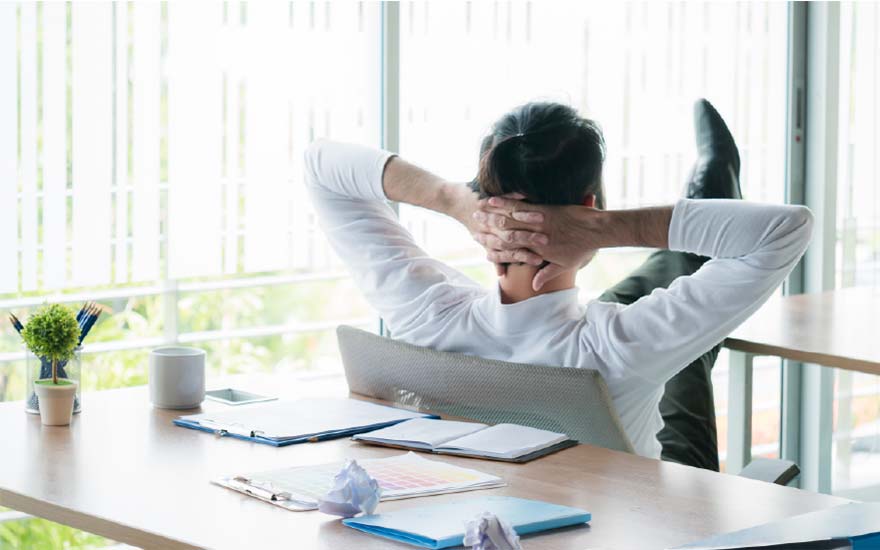 Entrepreneurs and self-employed workers who feel well have more energy and better ideas. But how do you stay fit and healthy at work without spending hours at the gym? On World Health Day, well-being trainer and coach Diederik Joukes shares his best tips & tricks.
Meetings that go on for hours, a quick snack now and then and lots of stress. The life of an entrepreneur is hectic, with little time or attention for a healthy lifestyle. And yet our health is our most valuable possession. "If you are vigorous and healthy, you have more energy. And you radiate that," says Diederik. "The same goes for your staff. When fewer colleagues are absent, there are more heads and hands to do the work."
You and your staff can incorporate these four small tips into the working day, in ordinary work clothes.
Take a microbreak

Diederik: "Your breathing says a lot about how you feel. If you are breathing quickly even though you are just sitting on a chair, you know that you are stressed. One well-known exercise to help you step back is the microbreak. Breathe in and out twice and concentrate fully on your breathing. You'll notice that you become a lot calmer. Do this as often as you think is necessary. You can do it anywhere – in the car, during a meeting, etc., because your breathing is always with you."

Change your seated position

"Being permanently seated is the disease of our age. You can make a point of dealing with that," Diederik says. "If you have been sitting down for a long time, stand up regularly and walk around. While you are sitting, it's best to change your seated position frequently. One good exercise is to sit with your left buttock on the right edge of your chair and let your right leg hang down next to the chair, with your knee downwards and the tip of your toe resting on the floor. After a couple of minutes, change over and let your other leg hang down."

The classics: sleep well and drink enough

Of course, these golden rules apply as ever. "Keep an eye on your diet, drink enough water and be sure to have enough sleep. A good guideline is to drink around 3% of your body weight in water every day. A regular bedtime routine increases the chance of an undisturbed night's rest. Relaxing activities such as breathing exercises, screen-free time and some gentle physical exercise will prepare you for refreshing night."

The super tip: adopting routines

And how do you accomplish all this? Diederik: "It's about teaching yourself new, healthy habits. And that is not easy. Adopting a routine and nudging are two useful tricks. For instance: every time my phone rings, I stand up. Good luck!"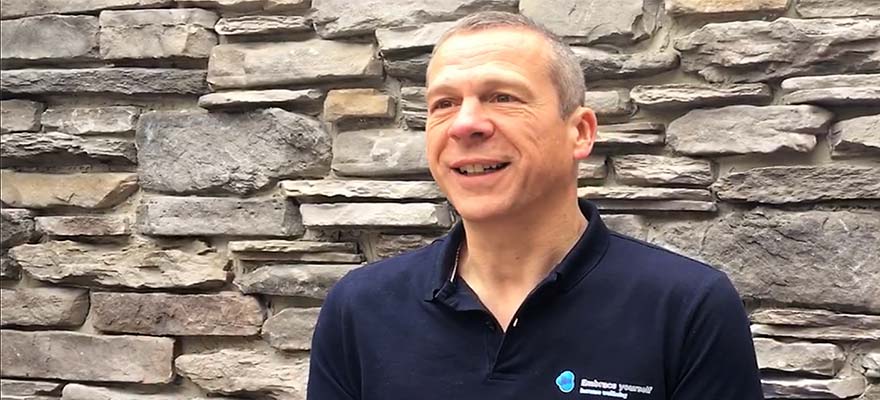 Diederik Joukes has a degree in Physical Education from KULeuven and began his career with the pharmaceutical company Menarini. In 2004, he joined Bristol-Myers Squibb where he moved up to the position of Business Unit Director Hematology Benelux. At the beginning of 2017 he started his own company, Bounce Higher, and developed the Embrace Yourself programs. He uses these programs to advise and coach companies on health and well-being at work.