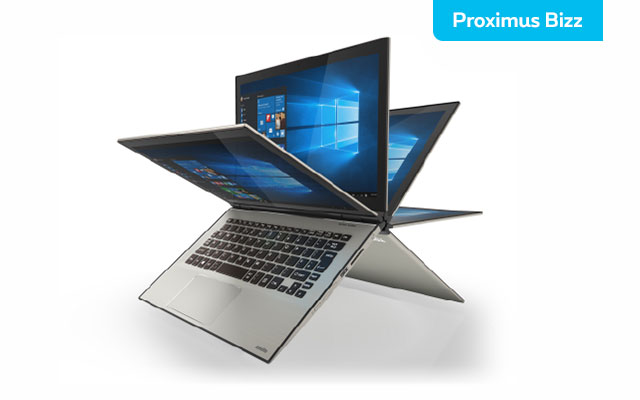 Looking for a powerful Windows 10 notebook that can double as a tablet? Toshiba's Satellite Radius 12 works just as well at the office, at home and on the road. Toshiba claims it's the first laptop in the world with a revolving 12,5" Ultra HD 4K screen. We decided to take it out for a test drive.
The brushed aluminum casing doesn't only make the Toshiba Satellite Radius 12 look good, but it also gives the sleek notebook a premium feel. The notebook's size - 12,5", the size of a regular A4 notepad – is perfect. The sides are fitted with a memory card slot, 2 USB 3.0 ports, 1 USB-C port and 1 HDMI port for peripherals.
Spotless performance
Tucked away inside this notebook's metal casing sits an ultrafast CoreTM Intel i7 processer that guarantees top performance. Combined with a 256 GB SSD and the 8 GB RAM, the Radius 12 has all you need to get a spotless performance from your notebook, even with more demanding software such as AutoCAD or Photoshop.
Stunning screen
The makers claim this convertible is the first in the world with a revolving 12,5" Ultra HD 4K touch screen. At any rate, the screen is simply stunning. A small comparison? It has four times more pixels than a Full HD screen. And no complaints about the sound either. The Satellite Radius 12 comes equipped with harman/kardon speakers and a Bluetooth link.
Tablet, anyone?
The Satellite Radius 12 delivers mobility and flexibility in one go. The 360° hinge lets you quickly turn the screen. As soon as you do that, the device switches to tablet mode. Want to type tekst? Simply pull up the virtual keyboard or turn the screen back to use the regular keyboard.
The physical keyboard has backlighting so you can easily continue to work in low-light conditions. The precision trackpad even supports the latest Windows 10 gestures.
What else? Well, the notebook also comes with an infrared camera that lets you login with facial recognition, which really adds to the user experience. And the battery? A bit of a letdown, this. Fully charged, we managed to squeeze 6 hours of operations out of it, so not quite a full working day.
The verdict
The Satellite Radius 12 has everything to let you work comfortably wherever and whenever you want. It it's filled to the brim with the latest technology. The versatile lightweight (only 1,32 kg) has the ideal size for every situation. Only minor point: the keys on the physical keyboard are somewhat smaller than standard. But we could get used to that.