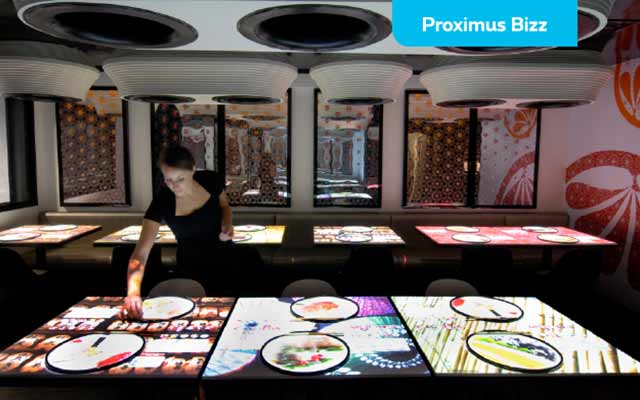 In the restaurant and bar industry, where owners are often still reeling from the aftereffects of introducing electronic (and 'white') cash registers, the word 'technology' often leaves a bitter taste.
Yet, technology can also deliver more efficiency, happier customers and more turnover.
Wondering how you could use technology to your advantage? Here's a serving of thoughts with a side dish of some great use of technology. Help yourself!

Pay online
As we mentioned in an earlier article, booking a table online has become second nature to foodies all over the world. These days, more and more businesses are also replacing their cash registers with tablets to handle payments automatically. No more cash in your business, wallet or purse. All your customer needs is a smartphone and the right app.
More or less salmon
That shouldn't only make for happier customers, but these new 'Point of Sale' systems also come with some nice extras for owners. You won't make any mistakes in handling cash and, more importantly, linking your payment system to your purchase and accounts systems will give you an immense amount of insight into your business. Like: which are the most popular items on the menu? What gets you the best margins? If you're, unconsciously, in the habit of under- or overstocking some items, you're software will happily point that out to you.
Tap on the table
Let's go futuristic for a moment: what about TableTap? This gives every table it's own tap. Every customer chooses and taps his own bear and he gets billed for what he taps, down to the very last drop. Even when he's spilled some. Payment is done via tablet or smartphone. TableTap is already installed in over a hundred bars in the States and Europe.
Digital menu
More and more restaurants world wide are starting to use tablets as menus. What's more: it's a small step to have customers order via that tablet, so orders get sent directly to the kitchen for preparation. That way, you don't need to wait for a busy waiter to show up. It should be no surprise that a lot of fastfood outlets are introducing these digital ordering systems.
But that doesn't mean you have to (or should) go without waiters altogether. Tablets are an add-on, not a replacement. Because real people will still welcome and seat your customers and bring food and drinks to their tables.
E-table in London's SoHo
Inamo, an Asian restaurant in the heart of London's SoHo district is taking things even further. They project menus on tabletops which also serve as touch screens: swipe and scroll your way through the menu and order by touching the virtual menu buttons… The wait is made easier by watching a live feed from the kitchen or infotainment about tourist hotspots in the immediate area. Have a special event or holiday coming up, like Saint Patrick's Day? Then the owners easily adapt their virtual menus to fit the occasion.
Everything up-to-date
Tablets also make it easier to keep your whole operation up to date: your web site, your menu, your stock, … Change one type of content, and the rest follows automatically. There's no room for doubly entry mistakes, you don't have to print new menus every time you introduce a new wine or add a new appetizer to the menu.
Quinoa
For the ultimate in digital operations, you'll have to check out Eatsa in San Francisco. The restaurant specialises in quinoa-meals and they use absolutely no waiters or cash registers. Every customer orders his meal from a tablet or pre-orders from his smartphone. Food is prepared in the kitchen and placed in your personal 'cubby' where you can pick it up.
This is automation for a reason, because the lower operational costs allow Eatsa to provide fresh, healthy meals at a price that's lower than your average fast food menu.