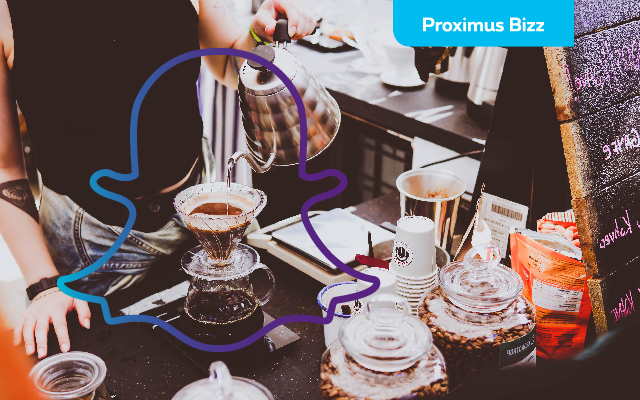 Ask teenagers what their favourite social media channel is and odds are they'll come back with Snapchat. For people who've passed the '30'-mark, Snapchat is often a big unknown.
So: here's an introduction to Snapchat, and we'll show you how you can use it for your business.
What is Snapchat?
"Snapchat is an app that lets you exchange content with friends and followers," says Bart Meese from Socialmediaburo.be. "That content can be images, video, text and even audio.
The genius thing about Snapchat, and a major benefit, initially was the fact that messages disappeared after ten seconds. You could view them once and then they were gone. That's still built into Snapchat, but the app has gotten a lot of extra features since."
Storytelling
"The second strong point of Snapchat is the ability to tell stories, Snapchat Stories, with images and sound. You can compare it to a Facebook timeline.
The unique thing about Snapchat is that you can use a veritable plethora of stickers, effects and filters to embellish your images and videos, which makes it a very fun way to spread your message. But the time-thing goes for stories as well: you can view a story for 24 hours. Then it's gone."
Intentionally complicated
"Snapchat keeps its user interface intentionally complicated and vague," adds Meese. These barriers make the app extra popular amongst young people and count for its charm and attractiveness. "Young people often use Snapchat more than they do Facebook because their parents are on Facebook as well, and that's just not cool." (laughs)
"For businesses this means that Snapchat is the tool to use if you want to reach out to the 14- to 19-year olds. But lately, there's a marked increase in the number of users in their twenties and thirties."
Marketing tool for youngsters
"Both large and smaller businesses can benefit from Snapchat marketing," Meese thinks.
But what can you do with it? "The great thing about Snapchat is that there is no one fixed format or length," Meese explains.
"Your imagination is the only limit. We often see challenges and competitions: businesses ask a quiz question and you have to return screenshots of possible answers. Or things like 'edit this image with filters and text and the most original entry wins.' The Story-functionality is often used at business events because it's a great way to offer people a behind-the-scenes experience."
How to reach your target audience?
Here's another hurdle Snapchat put in to keep parents out: the fact that you can't just look up and add users. You have to explicitly know the username of your acquaintance before you can follow her or him. So how can you establish an audience for your business snaps?
"That's where other social media such as Facebook or Instagram come into play," Meese explains. "Those channels are used to let your followers know you have a Snapchat account. And you can publish special codes that users can scan with their phone's camera so they can find and follow you. Or you just put your Snapchat details in your email signature or on printed materials and flyers.
Another thing businesses often do: get hold of a 'famous' Snapchat user and let them do some name-dropping for you. Goal is to have their followers start following you."
Bicky Burger and Studio Brussel
We've already had a couple of Snapchat campaigns in Belgium that have achieved a certain notoriety.
"Bicky Burger has a very popular series on Snapchat where two presenters visit chip shops in popular student cities and record their adventures.
Studio Brussel had a Fok de Blok-campaign: during pre-exam study periods students got full control of the account to do whatever they wanted with it.
Ostend uses Snapchat for city marketing. In The Netherlands, Almere police uses Snapchat for live patrol reports. Those campaigns are always very image-oriented and rarely aimed at hard sales."
DIY, please
It's not just the big boys who can handle Snapchat for marketing. "I know a baker who snaps images of his bread and gives followers a glimpse of his bakery shop. Will that make him a millionaire? No, but at least he's showing everyone he's running a modern business."
To use Snapchat, you'll have to suffer a small learning curve, but you'll soon find the app offers a lot of possibilities. "There's really no need to turn to a major advertising agency to handle these things," says Meese. "Please don't, I would say. It's only by doing these things yourself that you can be really authentic. Most companies you hire to do it for you will do a good job, but they'll never have the same affinity with your business than you have."
Bert Meese is conversation manager at Socialemediaburo.be. They provide social media training and monitor social media channels, especially for government institutions that are looking to improve their public service.
Already on top of this Snapchat thing? 'Snap' for free
Are you a heavy Snapchat user (or Facebook, or Twitter, …)? Or you're planning on becoming one? Then get your Bizz All-in today. On top of all the other advantages, you'll get unlimited data to use with your favourite app.