The advantages of having a SIM card in your car
Published on 22/07/2016 in Be inspired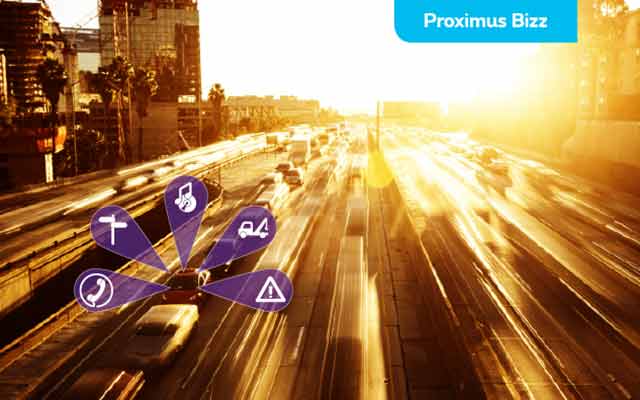 Put a SIM-card under your bonnet and connecting to the internet over a 3G or 4G connection becomes as easy as falling off a log. And a lot of very interesting things are suddenly quite possibly. That's why more and more car manufacturers provide the opportunity to equip their vehicles with SIM Cards.
Where is my car?
So you've parked your car somewhere downtown but you can't remember where exactly.
A simple app on your smartphone will be able to tell you where it is and guide you to your vehicle without further ado. But there's more. If you have company cars, you can use a built-in SIM to find out where your cars are, when your colleagues will arrive at that vital customer meeting or how to replan your trip to get to your destination faster or easier.
Communicating with your car could also means access to little tricks like turning the airco on from a distance or making sure your windows and doors are closed and locked.
Close friend of your GPS
A SIM-card is the ideal companion to your cars' built-in GPS. Your GPS will collect updates automatically from the internet. This means that you'll always have the absolute latest traffic information about blockages, accidents, etc. Goes without saying that this will help you plan a better, alternative route. So you'll spend less time on the road. Need rail or flight information? Or weather forecasts? Those can be downloaded and shown as well.
Car-working
The New Way of Working… everyone is going on about it. And rightfully so! If you always have complete access to all of your files, you can easily plan your own working day. And the SIM-card can help you get access, even when you're in your car. So those long hours on the road can be spent doing something a bit more useful like drafting or checking an offer or writing a proposal. But…. not if you're the one doing the driving, of course. So a SIM-card carrying car becomes another great reason to opt for carpooling.
Accidents happen
A number of car manufacturers already provide systems where cars automatically contact a call centre in case of emergencies or accidents. Even if you're stuck on a remote country road or you are sadly in no condition to make the call yourself, you car can be trusted to notify the emergency services. Your GPS coordinates will be used to track you down.
But you'll also be able to use the call centre for slightly more entertaining purposes. Like looking up the nearest restaurant or a certain shop. Operators of the future will be standing by to help you with all your queries.
Maintenance time
Your SIM-card will also be used to send regular maintenance data to your favorite garage. So when the time comes for your next maintenance, you'll get an automatic notification. Your mechanic will also automatically have a view of the work he needs to plan on your car because all of the diagnostics will already be on his computer.
Music, maestro
Of course there's the obvious entertainment value. Streaming music directly to your car will become a piece of cake and will give you immediate access to millions upon millions of songs.
Proximus Bizz team
A team of more than 40 experts bringing independent entrepreneurs and small companies the best ideas and solutions for their needs.
Other articles of Proximus Bizz team
Questions about our offers?
An advisor is at your service