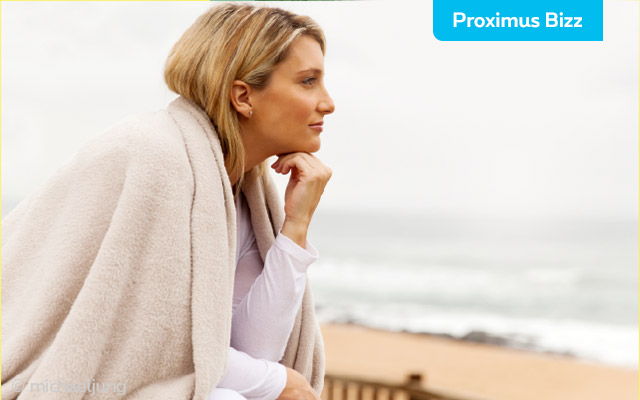 What are your New Year's resolutions for your business
Ban paper, choose cloud
It's been in predicted for the past couple of decades, but it may finally break through this year: the true, paperless office. The major driver of the trend is of course the cloud. More and more starting businesses, for example, are becoming "cloud only". They set up nearly all of their infrastructure in the cloud. They save on storage and archiving while still retaining complete access to their files at all times. Modern cloud technology also allows the to store sensitive date without the risk of it falling into the wrong hands even while, at the same time, sharing and collaborating has never been easier. Of course there's no reason why existing businesses should be left behind. Check our OneDrive for Business-offering and discover the ideal way to simply and advantageously get started with the cloud.
Prioritise safety
As "new" technologies such as the cloud, webshops, online payment and the internet of things find their way into the mainstream, cybersecurity becomes more and more important. No businesses, big or small, physical or virtual, can afford not to pay attention to security. Imagine what would happen if hackers make off with your sensitive data, shut down your webshop or abuse your identity. Meanwhile, there've been instance where companies got into serious trouble as a result of this. Make sure it doesn't happen to you.
High speed parcel delivery
Consumers shop when they feel like it and want to receive their goods as soon as possible, preferably same day or – at the latest – tomorrow. Up until recently only the major online retailers had the kind of infrastructure and logistics to fill these needs, but more and more smaller webshops are also involved. New services such as Uber Rush and Amazon Flex give them the flexibility the need, and more and more customers don't seem to mind to pay for the extra customer experience.
Let your customers decide how they pay
Until a few years ago you could not buy anything online without a credit card. Those days are long gone and the range of new payment methods for customers has mushroomed: Bancontact, PayPal, Scashing, Sign2Pay, Google Wallet, Bitcoin, etc. New ones are added all the time. For a business owner, it's important to keep up to date on what's happening in the world of online payments and to make the right choices. And as more consumers also use mobile devices to visit webshops, you should also make sure that they too get the best shopping experience.
Durable and flexible business
CSR or Corporate Social Responsibility is no longer the exclusive playground of multinationals. Public opinion also demands more action from smaller businesses. Eco-friendly operations, attention to mobility and CO2 emissions and energy saving are focus points. But so too are work/life balance, flexible hours, home office and making sure your employees well-being is taken care of.
In the raging (and growing) war for talent, these issues will continue to rise in importance as arguments to get the best potential candidates.
Show your human face
Digital might be the new normal but, ironically, that is exactly the type of environment where real human contact with businesses increases in importance. Every customer wants to feel appreciated and only people can really make sure others feel like that. Such an approach is the best way to strengthen customer confidence and loyalty. So don't be too quick to depreciate the "old" ways of doing business, such as a simple and friendly chat or phone call with your customers.