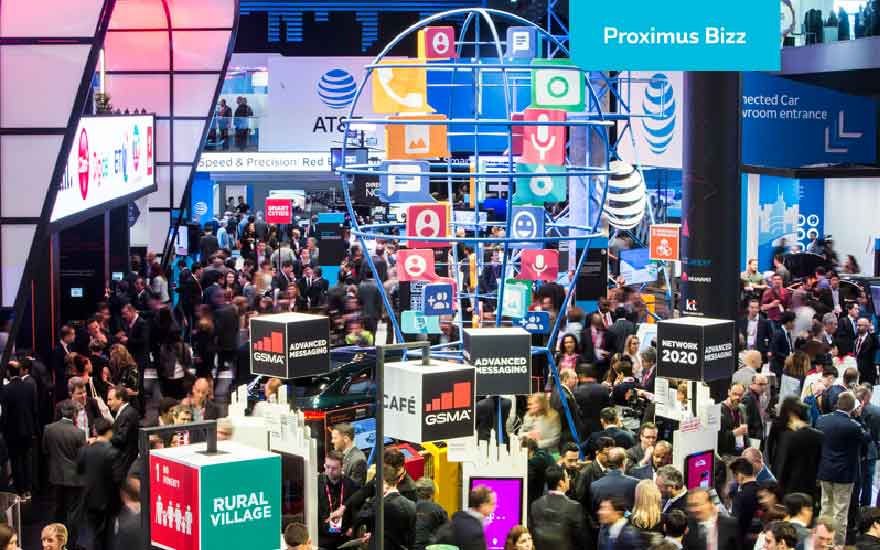 The Mobile World Congress gets underway in Barcelona on February 26. It's the biggest show of the year for everything to do with smartphones and mobile communication. Many announcements are 'top secret' right until the very last minute. But we're willing to hazard a few predictions.
8 halls chock-full of mobile technology
The Mobile World Congress is eight enormous halls chock-full of the latest mobile technology. This is where electronics giants like Samsung and LG present their newest smartphones. Other manufacturers demonstrate their progress in the field of Virtual Reality, 5G or cyber security. The program for the four-day fair also includes dozens of keynote speeches by leading figures in the telecom sector. Most attention is traditionally focused on the latest smartphones.
Samsung Galaxy S9: the camera reinvented
Samsung is using this year's MWC to launch the Galaxy S9. The launch is to take place at a separate Unpacked event on Sunday evening, 25 February, one day before the fair officially starts. The teasers that the technology giant has sent to the press indicate that the S9 has a radically modernized camera, but apart from that we are not expecting any major changes compared with the Galaxy S8 from 2017.
And the competition?
Samsung's biggest rival, Apple, traditionally ignores the MWC. We are not anticipating many fireworks from competitors such as Huawei and LG this year, either. Knowing that Samsung is sure to attract the most attention, Huawei has postponed the launch of its new flagship phone until 27 March. The successor to the P10 will probably be called the P20 and could well surprise with a triple camera including Leica lens technology. Rumor has it that the Chinese manufacturer will be introducing at least one new tablet at the fair, along with a number of innovations in artificial intelligence (AI).
The LG G6, the top smartphone that LG introduced at MWC 2017, is unlikely to have a successor in Barcelona, either. The manufacturer may unveil an improved version of the LG V30. This is LG's other premium telephone which, for that matter, has only just been put on the market in Belgium. At Sony, the one-year-old Xperia XZ Premium is in line for an upgrade. The successor is expected to have a totally new design with the front comprising almost entirely the 4K screen.
Read more about what we can expect from smartphones in 2018.
Smart timepieces and VR
Alongside a host of new smartphones, a considerable number of smart timepieces and fitness trackers are being announced at MWC 2018. And in the field of Virtual Reality, perhaps a couple of headsets or other accessories from trendsetters such as HTC with the Vive, Samsung and Oculus. The latter, owned by Facebook since 2014, has already said that it intends to bring out wireless VR glasses for around USD 200 in 2018.
Stay informed via the official MWC 2018 website.