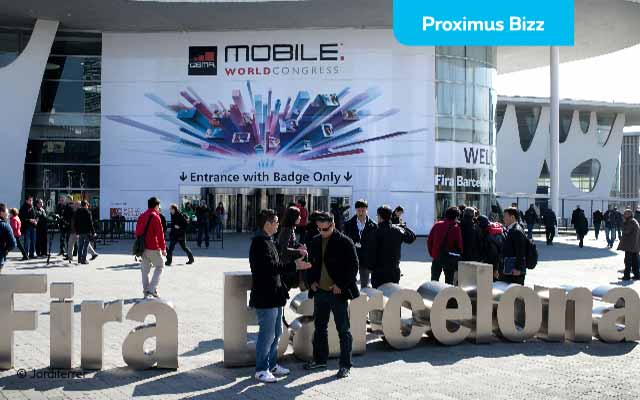 At the end of February, Barcelone will once again host the Mobile World Congress (MWC), the yearly High Mass of global mobile device and telco firms.
In recent years, the MWC has turned into the place to be in Europe for everyone who's involved in mobile communication and digital technology. And that is sure to draw a crowd: MWC expect about a hundred thousand visitors and 2,000 participating companies.
More than phones
If you'd like to know which mobile gadgets are coming your way in the coming months, a visit to MWC comes highly recommended. But there's more going on than just new tablets or phones. Under the NEXTech banner, there are a range of sessions on upcoming technology such as artificial intelligence, robotics, virtual reality and new ways of paying with smartphones. And you can test out a lot of new stuff as well. Like donning a virtual reality headset and walking around in a virtual environment.
Striking fact this year is the number of speakers and keynote speakers (especially that last category) from the entertainment industry. Small wonder that many industry analysts are looking forward to their contribution, because cooperation initiatives between tech and entertainment are still hot.
Self-driving cars and apps
Car manufacturers such as Volkswagen, Ford and Mercedes will also be present at the MWC. Multimedia and wireless becoming quite the thing in modern cars, their presence is not so surprising. Self-driving cars are guaranteed to be a hot topic, especially at Google, which has been having a go at the self-driving future through its Waymo subsidiary. And there will of course be no shortage of mobility apps. Just think app parking, carsharing, etc.
What else can you expect?
MWC always draws in the major tech giants. Sony, LG, Huawei and Samsung often present their latest flagship smartphones. The screen on the new LG G6, for instance, is rumoured to take up the full front side of the device (including curved edges), while the new Huawei P10 will likely sport two innovative Leica objectives, delivering crispy clear photos.
Samsung on the other hand is unlikely to show their new Galaxy S8, but they will most probably launch the new Samsung Galaxy Tab S3. This successor to the Tab S2 should carry on the fight with its habitual rival, the Apple iPad.
Speaking of Apple…
…they won't be attending MWC. Apple traditionally launches its new deviced at their own, exclusive Apple Keynote events.
For couch potatoes
Mobile World Congress 2017 is held from 27th February until 2nd March. If you'd like to check which companies are present and what news and devices they'll release to the general audience, you'd best check the official website during that week. And make sure to keep an eye on Facebook and Twitter (#mwc2017).
And, of course, all the trade mags, tech evangelists, tech sites and freelance journalists will be present at MWC and will pick up and share every last bit of information they can find. So that tiny tech-craving you might have is sure to be satisfied.