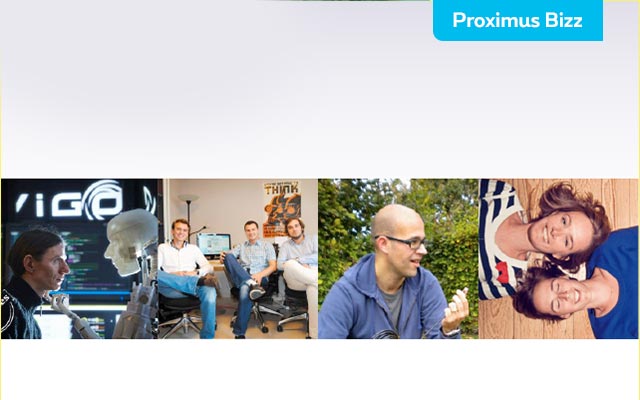 As an entrepreneur or small business, you don't always have a big media budget to buy attention. Just as efficient, however, is using a creative approach to earning attention and a spot in the media. SME's, after all, can also add value for newsmakers.
These four small businesses used this approach to their advantage.

Vigo Universal: take part in a contest for entrepreneurs (and win it)
There are a lot of contests for entrepreneurs and small businesses these days and a nomination or a win can get you quite some exposure. In 2014, Christophe Hermanns won the Trends-Tendances Gazellen Starter of the Year award and used the exposure to put Vigo Universal on the map.
The Namur company specialises in 3D printing, robotics and events. The Gazellen trophy came with exposure in the organising magazine and was followed by more articles in Trends-Tendances and in the general press.
ListMinut: raise capital
Making the headlines and putting your small enterprise in the spotlight can also be very useful to attract investors. But, often times, the opposite happens: small businesses gain attention when they manage to win over a business angel or raise a sizeable amount of capital. Christophe Kalbfleisch and Jonathan Schockaert's ListMinut – a service helping people locate reliable handymen in the local area – raised 200,000 euro in capital last year. That got them noticed by Le Soir and a range of web sites.
GroundXplorer: use the force… of innovation
Gert Moermans made headlines because, as an independent entrepreneur, he came up with an innovation that is set to help society as a whole. He thought up a technique to map the subsoil by using electric resistance, thus foregoing on the drilling process which had been necessary up till then. That not only gained him customers in the environmental and mining sectors, but he really hit the media when he used his technique to investigate a burial mound in Limburg. His investigation showed that burrowing badgers didn't endanger the protected monument. Using his technique to solve a difficult problem made headlines in, a.o., Het Laatste Nieuws and Het Belang van Limburg
CÎME: support a cause that is close to your DNA
Sustainable business is ever higher on the priority list of major companies, but as an entrepreneur, you can also use it to your advantage. This works especially well for small business that find a close tie between their cause and their day-to-day activities.
Brussels-based CÎME, a young biocosmetics operation run by Isabel Coppens and Anke De Boeck, is a prime example. The ingredients for their cosmetics come all the way from Nepal, through sustainable business deals set up with local farmers. When many of their local partners were hit by this year's earthquake, CÎME decided to appropriate a part of their profit from online sales to the Nepal Trust fund. Aside from the human factor, this got them the attention of lifestyle media such as Elle, Weekend Knack and Marie-Claire.