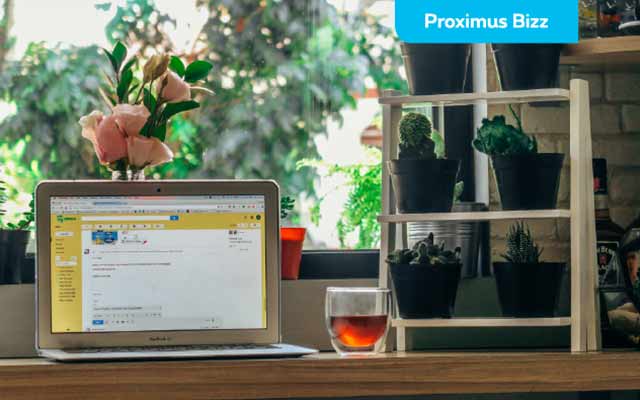 Do you sometimes think about starting homeworking for yourself or your employees? Because that comes with a lot of great advantages. But there are some pitfalls as well. These tips help you get started.
Working from home has a lot of advantages : less time wasted in traffic, beter management of your agenda and a better work-life balance. Homeworkers in general have a much more positive attitude towards their job and they are often more creative. But despite these obvious advantages you should tread carefully when you start homeworking. Jumping in without good organisation is not the best idea.
Homeworking requires a new way of organising your work, and trust and good arrangements are crucial. Your people may more or less determine where and when they work, but that doesn't mean that deadlines don't have to be met or targets don't have to be reached. So make sure everyone has a clear view on these.
The company get-together
Even if people work from home, they need to stay involved in your business. That's why many businesses ask their employees to come to the office at least once or twice a week. Mondays and Fridays are the popular choices here : it allows you to plan the week ahead, to check who will take care of which task, and to do a weekly roundup. And don't forget to plan the occasional teambuilding or company party to consolidate your team and get people involved. Or perhaps plan in an extra team lunch from time to time.
The financial side of things
Don't forget that homeworking also comes with certain investments : you have to provide the necessary (ICT) tools to your people so they can work from home, and a contribution to telecom charges (phone and internet) is also necessary. And perhaps you'll have to invest in other things such as cloud facilities or additional software to allow your people to collaborate efficiently. If you're a Proximus Bizz-customer, you can already get off to a good start with OneDrive for Business.
And no, homeworking is not suited for every type of job : a labourer operating heavy machinery will still have to work on-site. So which jobs are suited and which are not? Another thing to contemplate before you get going.
Good agreements make for good friends
We already mentioned this, but it is really important to put good agreements on paper, even if it's only to avoid legal issues. A homework policy allows you to detail the conditions and requirements for homeworking, which employees are eligible for the programme and what you will provide in terms of means and tools to make everything possible. And don't forget to note how (and how quickly) mails or calls should be handled, and how special circumstances would allow for a change of plan.
As employer, you also have the option to stop the homeworking programme if you see that the benefits are not what you thought they would be, or if employees are not following the guidelines.
A final note : don't be too rash when you launch homeworking. Start with a maximum of one or two days per week. That allows you to evaluate if homeworking is really something for your business, to live and feel the (dis)advantages first hand, and to adjust the programme if necessary.
Good luck !