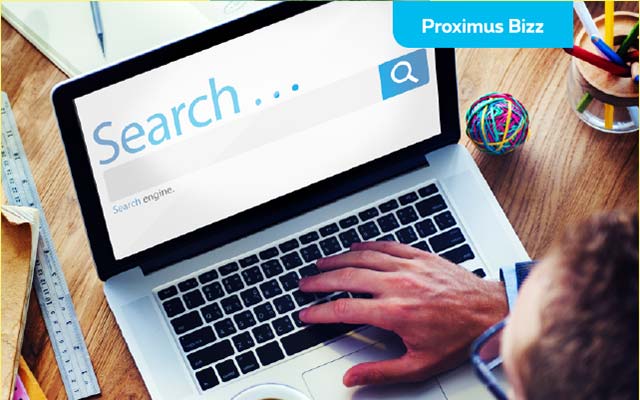 The possibilities Google offers are very extensive. Want to get to the right information faster? Here are some valuable tips and tricks.
Looking for specific information? The more refined your search query, the faster you will find the right answers. So if you're looking for the proverbial needle in the haystack, you'd better use some so-called search operators.
We've listed some useful examples below:
| | | |
| --- | --- | --- |
| Operator | What it does | Example |
| "xx xx xx" | Exact word combination | "tablet Samsung 32 GB" |
| xx * xx | Joker | no * like home |
| xx . . xx | Numbers range | BMW 2013 . . 2015 |
| ˜xx | Comparable search terms | ˜marketing |
| -xx | Exclude words | audi colour -car |
| -xx OR xx | One of two search results | phone OR smartphone |
| xx site:xx | Search inside a web site | iPhone site:proximus.be |
| related:xx | Search related web sites | related: theguardian.co.uk |
| define:xx | Search definition | define:Ghz |
| filetype:xx | Search filetype | filetype:pdf manual iPad |
Free images
Looking for images for your web site or blog? The prices of stock images can be sky high. But there is an alternative: enter your search term in Google Search and then click on Images – Search Tools – Usage rights. The select Labeled for reuse or Labeled for reuse with modification. Use Size to filter on image sizes. More Tools – Show Sizes can come in useful as well because this option will show the exact image size for every thumbnail.
Business Travel
Going abroad for business? With Google Flights you get an immediate overview of all available flights. Just indicate which airport(s) you'd like to leave from and Google will show the different alternatives and their price details.
Of course you can go one further and book your hotel while you're at it. Want to check the local weather before you leave? Go back to Google Search and enter 'weather Barcelona' or 'weather Boston', or whatever your destination is. Should come in handy if you can't make up your mind on what clothes to pack. Wondering about currency exchange rates? Type '100 euro in pound' or '50 euro in dollar' and get an immediate conversion.
Get notifications
Want to stay on top of what's happening in your professional field? With Google Alerts you receive an email every time there is interesting news on a topic you listed. Want to know everything about the iPhone 7? You could check a range of different web sites for news. If that's too time-consuming, head over to google.be/alerts and enter 'iPhone 7', then add your email address. In the Options, you can choose how often to receive updates and from which sources. You can even set language and region preferences.
And what's stopping you from setting an alert for your own business or products? That way you will stay up to date every time Google discovers some new information about you.