Oldtimer Service Van Geyte works at lightning speed
Published on 27/01/2017 in Your stories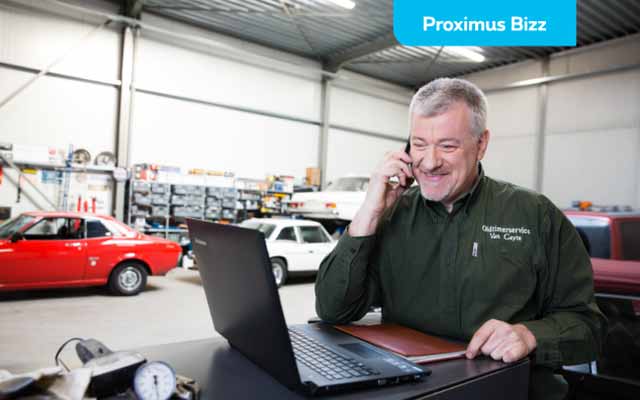 Let's meet someone who has his eyes on the future.
Since two years, Cesar ("Cis") Van Geyte (54) has been the owner of Oldtimer Service Van Geyte in Wilrijk. To serve his customers in the best possible way, he opted for fiber, Proximus' latest technology.
Years of experience under the belt
Cis has had an impressive career: 12 years working at a Ford garage, several years at a garage specialised in American cars, and 13 years at VAB breakdown assistance. So he's a garage owner who knows what he's talking about.
Two years ago, Van Geyte set up his own business. "Making the switch wasn't easy, but being your own boss is great: I can work until 11 pm if I like, or stop at 3 pm. It's entirely up to me. The paperwork is a drag though (laughs)!"
"My customers deserve the best possible service."
As a full-time independent entrepreneur, Cis needed his own garage. And it had to be equipped with the latest technology: "I wanted to serve my customers in the best possible way, so I needed the best and fastest products on the market.
I was immediately convinced by the advantages of fiber. My fiber connection has never let me down, it's really stable. And the promise to provide me with assistance the very same day if I run into problems, was another reason for choosing Proximus."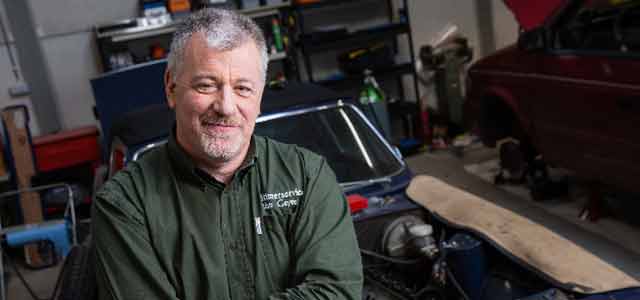 Ordering something used to take 30 minutes; now, I can do it in 5
A garage owner without Internet? Hard to imagine these days, says Van Geyte. "Do you know how I used to order spare parts in the past? I called a spare parts company in the UK on my fixed telephone and stayed on the line with an employee for half an hour – the time it took to explain what I wanted and for him to look it up in his catalog and place the order. A 30-minute international call: you can imagine the bills!
With my super-fast fiber connection, that's all in the past. I sign in to the online catalog of the spare parts company, choose what I need with a few clicks, pay online with my credit card, and two days later, a courier arrives with my order. Isn't that fantastic?" says the enthusiastic garage owner.
Fiber for lightning-fast downloads and payments
Proximus fiber offers a new way of working, and not just for orders. For example, with new cars – which Cis sometimes also repairs – you have to read the on-board computer or download a new operating system. "I can do that in minutes with my fast Internet connection!"
And Van Geyte no longer has to wait to be paid: "Payment with a bank card or credit card is super fast! Before, you could go off and have a cup of coffee in the time it took for the card in the machine to eventually beep! But that's ancient history. Just as well!"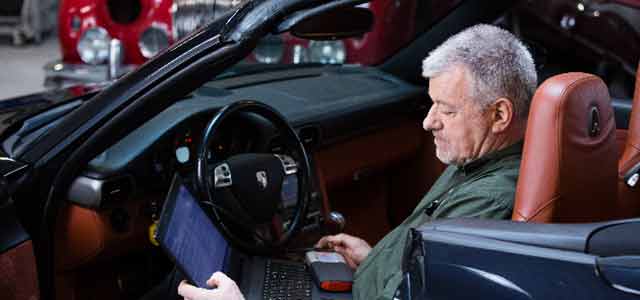 Real time = real time
Safety first, also for Oldtimer Service Van Geyte. "I can check the images on my surveillance camera in real time on my smartphone or laptop, wherever I am. And when I say real time, I mean 'real time'. Because Proximus 4G mobile Internet is incredibly fast," says Cis.
Back to the future
People are always saying, everything was better in the old days. But that's not always true, according to Van Geyte. "They don't make cars like they used to. Before, you could repair an entire car with a hammer and screw-driver. These days, you have to dismantle the whole thing just to replace a lamp.
But the Internet connection? A fiber connection has made a big difference. Go back to the oldtimer Internet connection I used to have? No way! (laughs)".
Want to surf at lightning-speed? Check our Proximus Fiber for Business
Questions about our offers?
An advisor is at your service