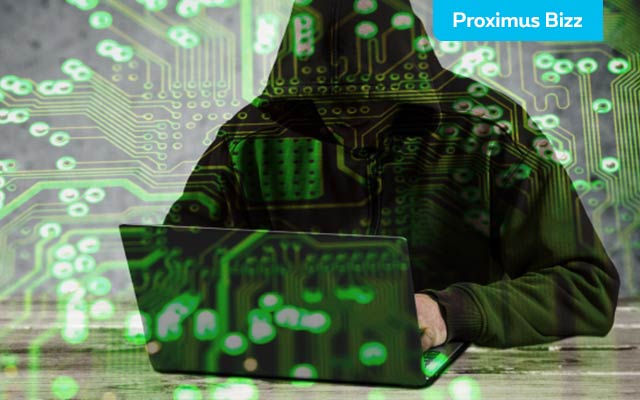 The days when a stout security guard sufficed to guard your company 24/7 are long gone. These days, businesses have to take their digital security into account as well. Recent research by KPMG shows that no less than 80% of Belgian businesses are quite unaware of attacks on their IT infrastructure. We selected five easy and cheap measure you can take to better shield your digital business from intrusions.
1.Rock-solid passwords
Do the combinations '123456', 'password', '12345', '12345678' or 'qwerty' mean anything to you? Congratulations, because chances are that you are using one of the five most popular passwords in the world. A good password should be changed at least once a year (and preferably: once a month) and shouldn't have any recognizable details. To rephrase that: don't use birthdays or names of your offspring. A decent hacker needs about five hourse to crack those passwords, less even if the password is shorter. Try to use a combination of letters, numbers and symbols.
A two-step verification nowadays is one of the safest ways to secure a laptop or pc. This means you receive a text message with a unique code to be used as password. That way, you can stay one step ahead of any potential hackers.
2.Digital protection against intruders
How long has it been since you've given your antivirus software or your computer's firewall an update? Regular updates are of vital importance, since computer virusses and Trojan horses are still the main cause of data loss in companies.
With services such as Norton Multi Security you can protect all of your devices against harmful software. And with automatic updates at 15 minute intervals, you are sure to always have the latest virus definitions to protect you.
3.Under lock and key
Laptops are very popular items in the thieves guild. According to the Federal Police, that is mainly because they are lightweight but, recently, laptop thefts are increasing because of the sensitive information found on them. Information that is rarely really secured. That's why you should make an effort to secure your company's sensitive information to avoid leaks to the outside world. Various software packages take that task to heart, such as VeraCrypt, BitLocker, Safeboot or Folder Lock.
4.No personal devices at the office
It goes against the DYI trend, but give your employees office smartphones and laptops, and don't let them bring their own devices to the office. For the simple reason that it is hard to sync and secure these mobiles and tablets. This is definitely an attention point: already in 2012, research showed that two out of three employees use their personal smartphones at the office.
5.No more internet
To live and work without internet in the 21st century seems an impossibility. Nevertheless, more and more people call for an introduction of air gaps in the business world. These gaps are computers that are in no way connected to any public or local network or to the internet as a whole. As such, they create a sort of impenetrable, digital fortress without drawbridges, gates or moats. But, in all honesty, internet has become such a mainstay in our daily lives, that it is much easier to put this tip to paper than it is to put it to good use at the office.