This dentist's clinic goes out to patients
Published on 11/06/2018 in Your stories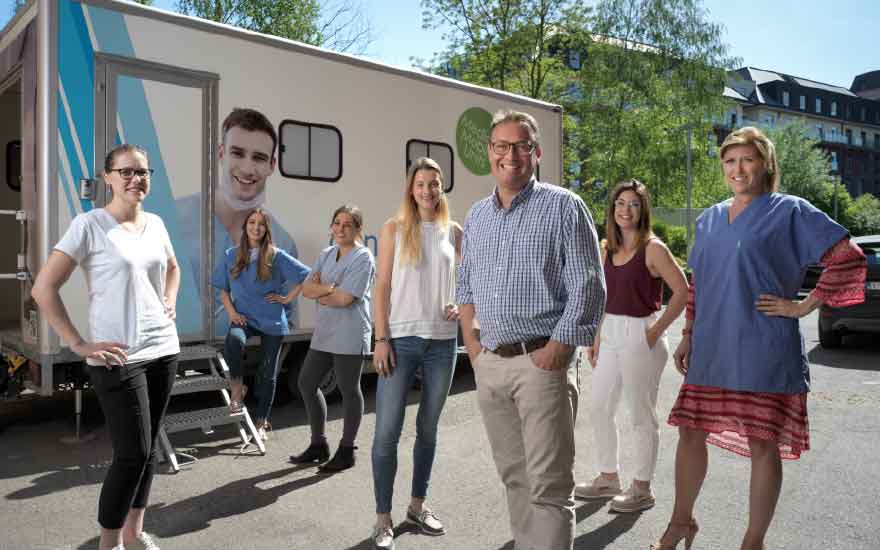 How can you maintain good dental hygiene if you are always struggling to make it to your dentist? Vincent Ghislain came up with an answer to that question: Dentalmobilis. His innovative idea was to offer a solution to this problem by creating a mobile dentist's practice. We caught up with Vincent, the inspiring and enthusiastic founder of this young SME.
Name: Vincent Ghislain
Role: Business owner
Business: Mobile dentist clinic, Dentalmobilis
Our thing: We are the dentist that comes to you, not the other way around
Entrepreneur from head to toe
'Do you know what I like most about my job? The fact I get up in the morning and that my day will turn out entirely differently than what I was expecting!' Vincent is a true entrepreneur, something that becomes apparent as soon as you start talking to him. This business owner's enthusiasm is full on. 'I think being an entrepreneur is in our blood. As a student, I used to organise activities for other students. I was also active in the youth movement, and I'm sure that probably helped.' Entrepreneurship isn't something that Vincent was instilled with at home. 'My parents never operated as independent entrepreneurs. It's just something I've got in me.'

Be proud of what you've achieved. It gives me the drive to give it my all, always.

Vincent Gillain, Dentalmobilis
Uneven lifestyle
Just because Vincent is the embodiment of passion doesn't mean that everything is always plain sailing. 'New challenges arise every day. But the biggest challenge, as far as I am concerned, is the responsibility inherent to entrepreneurship. I am not 20 anymore, I have a family with three children and a house that I need to pay off. This means I needed to make a tough decision. Should I leave the financial sector after 15 years of service? After all, it was a sector that I felt comfortable with and one where I held a good position. The reality was I needed to turn a new page: become an independent entrepreneur, risks and all. This was a huge challenge for me,' Vincent recalls.
Positive entrepreneurship
We asked Vincent where he gets his unrelenting enthusiasm from. 'To be an entrepreneur, you need energy by the bucket load, there's no doubt about that,' the business man agrees. But Vincent has his own secret to charging up his battery every morning: 'You just need to stay positive and look at everything on the bright side. Be aware that you are doing a fantastic job and that your team, and the people you meet, are amazing. This gives me the drive to give it my all, always. You must also be proud of what you've achieved. I am certainly very proud of my team and everything they accomplish each day.'
The other way around
Dentalmobilis is not a regular dentist's clinic. Its founder explains: 'What differentiates Dentalmobilis from other practices is that, in our case, it is the dentist that goes to the patient, not the other way around. That's our thing, it's what makes us different from traditional dentists.'
Not being able to use his smartphone? Now that would be a disaster for Vincent!
Questions about our offers?
An advisor is at your service