Building a new website? Read the 5 most frequently asked questions first.
Published on 20/08/2018 in Inspiration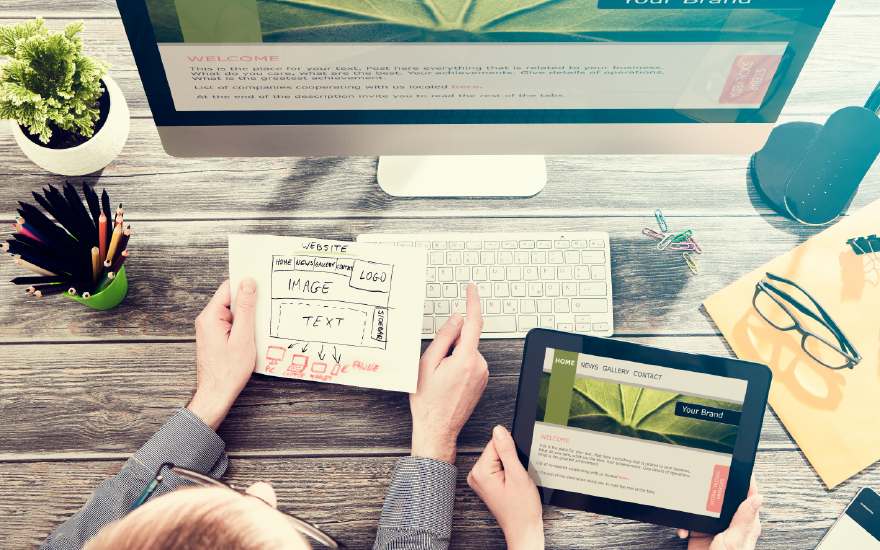 A new company website? It's an important decision to make. You probably still have a few relevant questions before taking the plunge. Do you, for instance, know how long it will take for your site to be ready? Whether it will rank higher on Google than your old website did? What domain name you should go for? Our Bizz Expert answers the 5 most frequently asked questions about new company websites.
How much does a new website cost?

The price can vary greatly. Firstly, it really depends on what you need … a simple page with only your address and a brief description? That will cost you about 1000 Euro in development plus 100 Euro in yearly maintenance.

A decent website that can be found through search engines and that you can modify along the way? You'll quickly be spending a few thousand Euros. Don't be too taken aback by the price tag though! You are an entrepreneur juggling a busy schedule. It is in your interest to ensure your website takes up as little time and energy as possible.

Advice from the Bizz Experts :
Your website must obviously fulfil the needs of your business. No matter whether that is a web shop or a modular menu card. Just make sure your website is compatible with both your wallet and your diary.

Should I renew my website or have a new one built from scratch?

When it comes to websites, it is often better to start afresh. Out-dated systems are seldom compatible with new tools and technology. It can lead to a specific design becoming unusable or making it difficult to follow up on your visitors. Put simply: your old website can be more of a burden than an asset.

Optimising your old website will quickly add up to the cost of building a new one. There is often ample room for improvement on older web pages. The design can be incompatible with mobile, copy may not be optimised for search engines or the underlying code may result in longer response times.

Advice from the Bizz Experts:
Do you want to ensure your website is both easy to use and well built? It is best to start from scratch!

My current website ranks poorly on Google. Will that be different with a new one?

Guaranteeing the top spot in the Google search results? That's a tall order. A lot depends on how strongly positioned your competitors are in the digital realm. One thing is for sure with a new website though: a good web developer will make sure you are found online. Especially when it comes to local searches, i.e. people that are physically near your business, a top ranking is always within reach.

Advice from the Bizz Experts:
Choose a web developer that is also an SEO expert. Nothing is guaranteed with search engines, but your ranking in Google will surely improve.

How long will it take to build my new website?

Many factors will impact how long it will take to build your website:

When are you sending through your company info like pictures and product details?
When can the web developer start on your project?
How complicated is your assignment? Do you require one landing page or a whole web shop?
How quickly are you providing feedback on intermediary proposals?

No matter what the case may be: assume that your website will only be ready to go live a few months after your initial query.

Advice from the Bizz Experts:
Take your time for a new website. Above all: choose your developer based on quality, not availability.

How do I pick a name for my website?

Do you already have a website? You can always ask your web developer to reuse your old domain name. Unless you are no longer happy with it, of course. Just keep these 4 things in mind when choosing a new domain name:

A company website should convey your (abbreviated) company name
.be, .nl and .com are the most appropriate extensions in Belgium
Short is easy – both when it comes to remembering and typing
Avoid symbols like dashes or o's, which can be read as zeroes

Advice from the Bizz Expert:
Don't be too creative with your domain name. Your website must, first and foremost, be accessible to every potential customer.
You want a good website.
One that is easy to find. And that answers customer queries. With a name that stands out. Packed with new tools and technology. You want all of this for your business, which is nothing short of what you should expect.
The only thing you can't hope for is that just anybody is capable of building such a website. For a good company website, you need a good web developer. Somebody you can connect with regularly. With tons of experience. Somebody like the experts at Bizz Online.
Questions about our offers?
An advisor is at your service