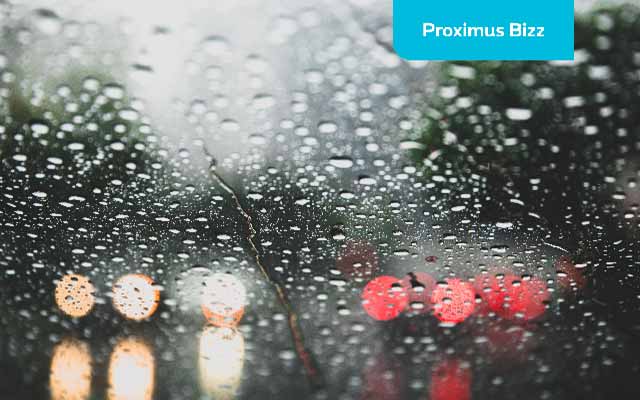 Snow, hail, fog and storms … most people don't like bad weather, and with reason.
For businesses, it brings additional headaches: bad weather causes lots of traffic disruption and keeps people away from work. These tips will help you stay productive, even if all hell has broken loose outside.
Impact on business climate
British research shows that the impact of bad weather on the business climate is not just a myth. According to the Centre for Economics and Business Research, the growth of GDP in the United Kingdom is on average 0.6 percentage points lower in periods of bad weather. If the minimum temperature falls one degree below average, it cuts around £2.5 billion from GDP.
After all, when the weather is bad, staff get stuck in congestion, sick leave increases, transport is disrupted and infrastructure fails. The congestion problems in particular should not be underestimated.
Research conducted by Transport & Mobility Leuven (which is linked to KULeuven) in 2015 indicates that every passenger car that spends an hour in a traffic jam results in the loss of something over €10.5. For trucks the figure is upwards of €36. The total cost price on busy days runs into millions.
Homeworking arrangements
So as an entrepreneur, how can you arm yourself against this? The most important thing, of course, is to offer your employees an alternative to coming into the office or store and giving them the opportunity to work from home. We realize that for people in a production environment this will not be as easy as for those who do mainly administrative work.
One good place to start is to agree on a homeworking policy. It doesn't need to be a whole encyclopedia, but good arrangements make good friends. So determine the circumstances when your staff can stay at home, how they should be reachable and exactly what is expected of them.
The right tools
To make homeworking possible, the right infrastructure is, of course, essential. Without a good Internet connection and a laptop or a computer, your people won't get far. As an employer, you can contribute towards the costs of this and, within certain limits, it won't add to your employees' tax bill either. Your accountant can help you here.
Not only must the computer and Internet connection be up and running, but the necessary software is important, too. One commonly used package is Microsoft Office 365, for instance, which gives your employees permanent access to the latest versions of Word, Excel and PowerPoint, but also includes Skype for video conferences (handy to stay in contact with the people who did make it to the office).
A cloud storage service can be a real blessing for teleworkers, too. With OneDrive, for instance, homeworkers can share documents and files with colleagues or even work on them with several people at the same time. And of course, you have to be within reach at all times, wherever you are.
What if your people aren't working from home, but are stranded somewhere without a Wi-Fi connection? Then a Mi-Fi router can help, such as the Vodafone Mobile Wi-Fi R216 4G-router. This little gadget establishes a connection with 4G and your mobile devices (laptop, tablet, etc.) recognize it as a Wi-Fi point. So wherever there is a 3G or 4G signal, you can go on line with various devices at the same time via Wi-Fi.
Security first
Finally, whenever employees work from a distance, the employer's infrastructure must be prepared for this. In particular, you cannot afford to lose sight of security. So only grant access to your company network via a VPN or Virtual Private Network. This is a sort of secured tunnel between the tablets and your network that makes it a lot harder for cyber criminals to steal information from your servers.
But mobile devices can be lost or stolen, too. They often contain sensitive information (sales forecasts, information on new products, confidential e-mails, etc.). Make sure you don't just throw this information up for grabs. It's a good idea to protect it at least with a code and ensure that it deletes itself if an incorrect code is entered a certain number of times.