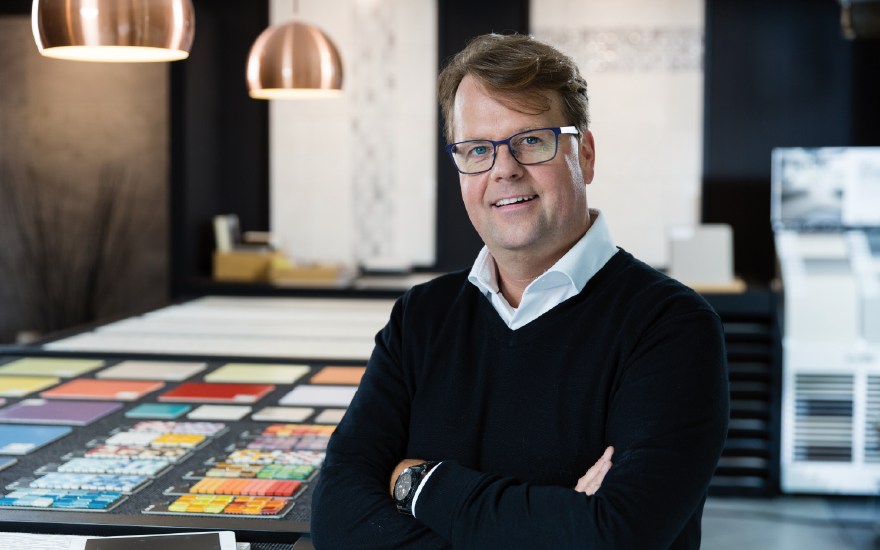 It was all but written in the stars that Philippe Van Riel would follow in his granddad's and dad's footsteps. He was brought up on entrepreneurship, after all. But Philippe found his own way to manage the family's tiling business: with attention to service and a unique view on customer service. And that's exaclty the same approach he found in his Bizz Expert, when he recently switched to Proximus.
Third generation
"I actually have a background in electronics. But there you go: blood is thicker than water. After two years at college, I decided to go where my granddad and dad went before. The third generation of Tegels Van Riel was a fact," Philippe Van Riel begins.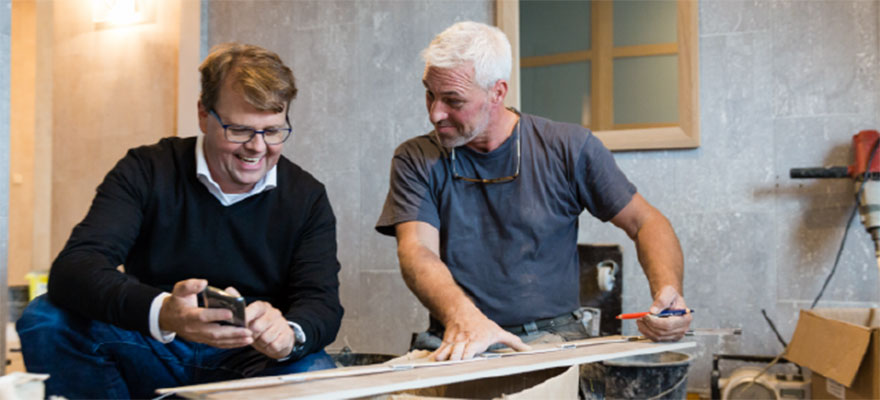 Service as a trump card
Meanwhile, Philippe's been in the tiling business for 25 years, and Tegels Van Riel has become a healthy SME with 8 employees. "Our biggest trump card is our own placement service. That way, we control everything: the showroom, sales and placement," Van Riel explains. "Selling is what I like most about my job: the social contact. And makins sure people get the service they deserve."
"All of my telecom solutions in 1 pack and great service on top: Proximus was the logical choice."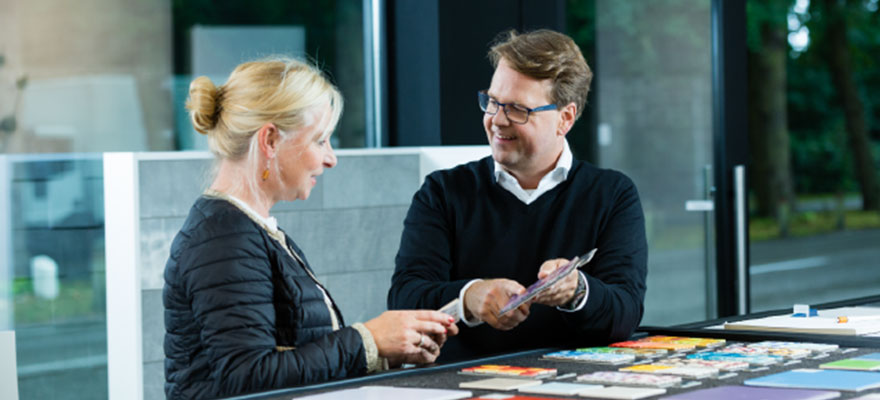 It's crucial to have the right tools
"I do the measurements and the follow-up on site. That allows me to keep close tabs on my customers and gives me a good view on what our staff is involved in. Afternoons are set aside for the company's administration. Well, I try, at least (laughs)", Philippe continues. "But to give my customers the service they deserve, I need the right tools. And I recently found those at Proximus."
Bizz Expert Rudy, telecom know it all
"I'm a long-time Belgacom customer, for our landline. For our mobile subscriptions I opted for Proximus again about 6 months ago, after some sidesteps to the competition," Van Riel continues.
Proximus was the obvious choice: "I'm a member of the BNI business network, a gathering of independent entrepreneurs. That's where I met Rudy. He's a Bizz Expert at Proximus and a regular know-it-all when it comes to telecom. I asked him to look into our telecom and that's exactly what he did. And succesfully as well, because my monthly invoice amount decreased significantly and at the same time the service level increased markedly!"
All-in pack
Thanks to Bizz Expert Rudy, Tegels Van Riel has its telecom affairs well sorted out. "Rudy's expertise helped us choose a very interesting all-in pack with fixed and mobile phone and internet. I also do a fair amount of work from home – you know an entrepreneur is never done (laughs) – so home internet and Proximus TV are included as well. And all of that on just one invoice. That's what I call practical!"