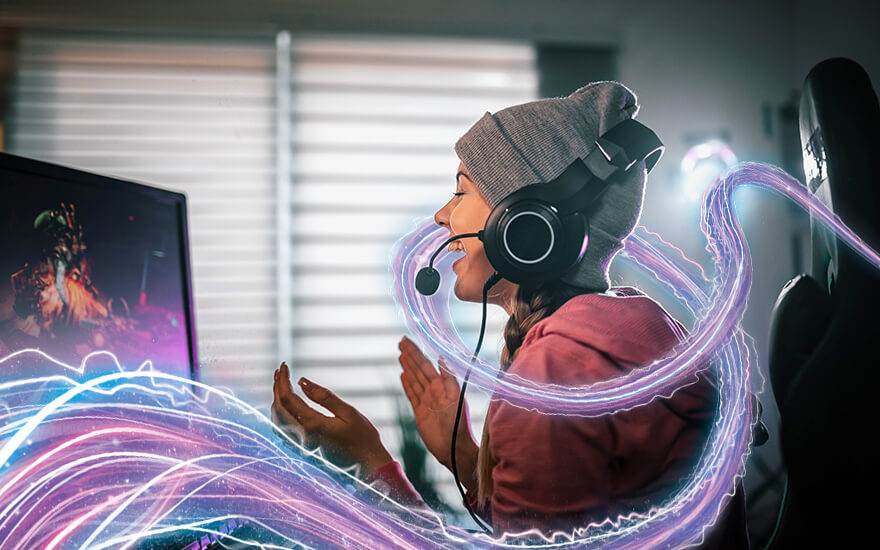 A better connection thanks to fiber
Fiber offers a higher bandwidth than other technologies. Bandwidth is the maximum capacity of an Internet connection. It ensures the fluidity in the execution of tasks and the quality of the Internet connection. Streaming games are outrageously bandwidth-intensive and only fiber is able to let you enjoy an excellent online experience.
Much faster upload as well as download speeds
Download speed is the time it takes for a file stored on an online server to load on your device. Upload speed is the time it takes to transmit data from your device to an online server. These two components are complementary when you play online. When both are much higher, your reaction time improves and the game becomes smoother with ultra-low latency.
Ultra-low latency
Thanks to the most powerful internet connection available today, latency is reduced to a minimum. Latency is the time it takes to send a command and receive a response to your request. Low latency = faster response time = more responsive gaming experience.
Fiber keeps up with the future needs of gamers
The online gaming industry is constantly improving its graphics to give you a better gaming experience. Fiber allows you to enjoy your favorite games with all the options and features provided by the developers, including virtual reality games.
Want to know more about fiber?
Team Proximus
Our team keeps you informed on the latest news whether it is about our products and services or on the trends & novelties.
Andere Artikel von Team Proximus