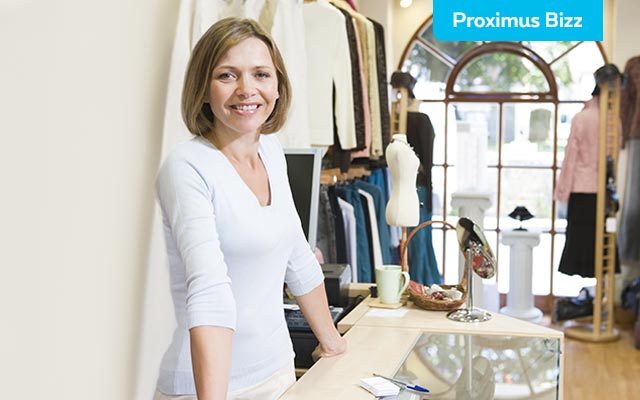 Are you looking for creative ways to save money in your shop, without effects for your customers? Good! Life is expensive enough as it is. Our handy tips will give you push in the right direction.
Lighting
There are quite some ways to save a small fortune on lighting in the long run. Why not begin by replacing your old, wasteful classic bulbs or halogen spots by durable LED lighting. That in itself could mean a 80 to 85% decrease in lighting costs!
And why not install switches that turn your exterior and shop window lights on and off automatically? Indoors, sensors can help you to light just those spaces where people are present at that time.
Open-door policy
A lot of shopkeepers will agree that an open door is a silent welcome to any customer. Even if it means heat loss in the winter and an extra strain on your airco in summertime. The solution? An air curtain could be an option. It keeps the hot air out in summer and does just the opposite in winter. In figures: a double open door loses about 32kW energy per hour. An air curtain reduces this by no less than 70%!
Were you considering installing an automatic sliding door? Don't hesitate, because such a door can deliver energy savings of up to 40% as opposed to classic double doors.
Cooling
At home we always take care to close the refrigerator door. So, if you have refridgerators in your shop, why would you leave them open all the time? Knowing that two thirds of electricity consumption in the average supermarket comes from cooling, it pays to take this into consideration. By covering an open fridge, you can save 45 to 55% on the energy bill for that specific refrigerator. Can't do without open fridges? Then make sure to cover them at closing time to avoid 50% of the energy charges.
Prevent shop thefts
Shop lifting has always been a bane in any shopkeeper's existence. According to the asbl Prevention and Security any shop – be it a clothing store, jewelers, bakers or supermarket – has an average of 22 thefts per year. Most popular products are dry foodstuffs (22,10%), perfumes (14,79%), alcohol (10,08%) ladies clothing (7,32%) and… unprocessed meats (6,90%). The most popular time-of-day with shoplifters is between 16 and 18h (35,93%). That's when you should step up your surveillance a bit.
The Federal Police also advices to prevent shop thefts by reorganising the shop interior. High cupboards could be replaced by open spaces, valuable items can be stored in locked showcases. Last but not least: encourage your shop staff to make faster contact with customers. These three easy tips will go quite some distance in discouraging shoplifters.
Pay attention to the details
Swith your computers to energy-saving mode in the evening. That's no trouble at all but will save you nearly 50 euros on a yearly basis.
Who is better placed to watch all the details than a specialised accountant? Outsourcing your accounts will usually bring more savings than costs. And you can spend more time in your shop and less doing admin.
Why spend lots of money on expensive window dressing or store furniture when you can easily find cupboards, racks and decoration online? Mostly second-hand, but that's part of its charm. Check your local recycled goods shop for a chance to find some real treasures.