The Nokia 2: no-nonsense at an affordable price.
Published on 30/01/2018 in Tech, tips & tricks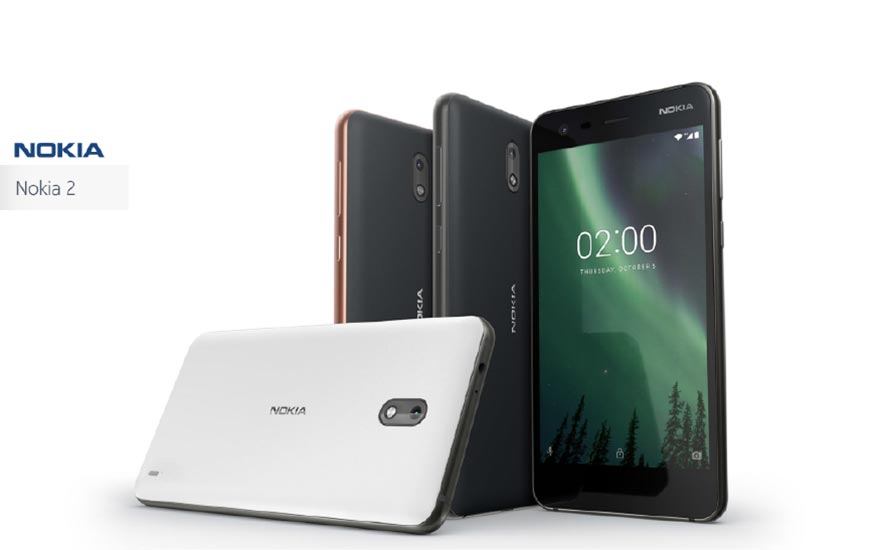 HMD has the license to produce smartphones under the Nokia trade name. The Finnish-Chinese group is not dragging its feet. After the Nokia 3, Nokia 5, Nokia 6 and Nokia 8, they are now bringing out the Nokia 2. As the number in the name suggests, the device is aimed mainly at price-conscious consumers. Do you have to give something up in return? Surprisingly little, it appears.
DESIGN
The Nokia 2 is instantly recognizable as a Nokia. The design has not been covered up: a classic black rectangle with a simple aluminum edge along the side. The back is plastic and it is comfortable to hold. The Finns don't need to be taught anything about ergonomics. However, you'll have to do without the ultrathin screen edges that are so on-trend at the moment.
SCREEN
Nokia has given its cheapest model a five-inch screen. The resolution is a little lower, at 1,280 x 720 pixels. So, it's not a Full HD screen. But it is a lot better than the 960 x 540 screens that you still find in this price category. All the icons and webpages look great. The colors and the contrast are fine, too.
CAMERA
There is a camera with eight megapixels on the back of the Nokia 2. On the front is a selfie camera with five megapixels. The rear camera is equipped with autofocus, but there is no optical stabilization. The Nokia 2 has nothing to be ashamed of. During the day and in well-lit rooms, you can take perfectly usable photos with this device. Is the quality as good as an iPhone X or a Samsung Galaxy Note 8? Or can it hold its own as well in poor light? No, but you could hardly expect that from a phone that costs just a tenth of these big names.
BATTERY
In terms of battery power, the Nokia 2 outstrips many of its competitors. It has a battery of no less than 4,100 mAh. Combine that with its relatively modest screen and chip and you have nothing to worry about: this phone easily gets through a busy working day. And even then, it will probably still have some capacity left.
PROCESSOR AND MULTIMEDIA
The Nokia 2 costs barely more than €100. You can't expect a racing car for that price. It runs on a Qualcomm Snapdragon 212 chip. A piece of low-budget silicon that copes with all everyday tasks. The chip does struggle if you start playing 3D games or have too many tabs open in your browser. However, business people who use their smartphone to surf, e-mail and call won't have any problems.
Pros:
Great, no nonsense telephone to surf, e-mail and call
A screen of 1,280 x 720 pixels
Powerful battery
Very affordable price
Cons:
Photos are good, but no more than that
It's not really fast