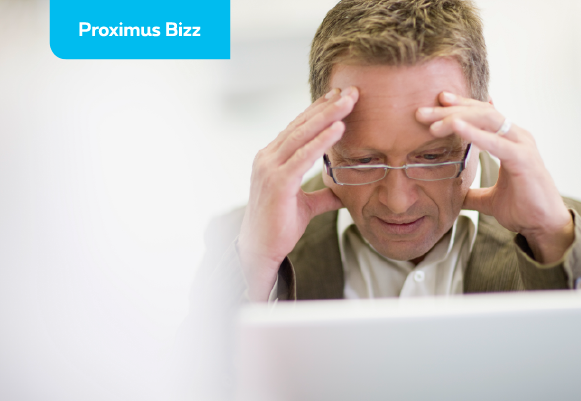 Fast and stable internet access, that's what you need for your business. But what if your connection slows to a crawl? With these quick steps, you can get started on solving the issue as quickly as possible.
Step 1: restart the router
It's important to locate exactly where the problem appears. Like a true Sherlock Holmes you can check out all your devices to see which ones slow down and do a process of elimination. Do you have multiple devices and are they all slowing down? Then it's best to check the router or modem first. Restart the device by switching it off and on.
Step 2: optimise your wi-fi connection
Does your internet behave well on a landline but not on wi-fi? The quality of your wi-fi connection is often influenced by your environment. To get the best reach, you could:
put your modem in a high spot, preferably in an open space so the radio waves have more reach,
put your router close to the devices that are using wi-fi. For rooms or locations that are further away from the modem, you can use wi-fi extendersor Powerline-adapters that work through your electric cabling.
Step 3: close down anything that consumes a lot of bandwidth
Not all software uses equal volumes of internet traffic. Downloadsoftware or video and music streaming sites are notorious for their massive consumption of bandwidth. You could try to boost your surfing speed by disabling services like Deezer, Spotify and YouTube during working hours.
Step 4: have a look at your browser
If your connection seems slow and there is no obvious way to correct the problem, for instance when you're surfing on a hotel network or similar, you can still try and improve things by doing the following:
make sure your browser is up to date. Or simply try a new browser. Many older browser versions are not really equipped for today's fast internet. Third party browsers such as Firefox or Chrome are quite often faster than the standard Internet Explorer or Safari.
Use mobile sites. These are specifically designed for slower network connections and send less data to consume.
Try not to multitask. If you want to work faster on a slow connection, it's best not to open your mails and five browser sessions at the same time. Your connection will be faster if there's only one programme using it.