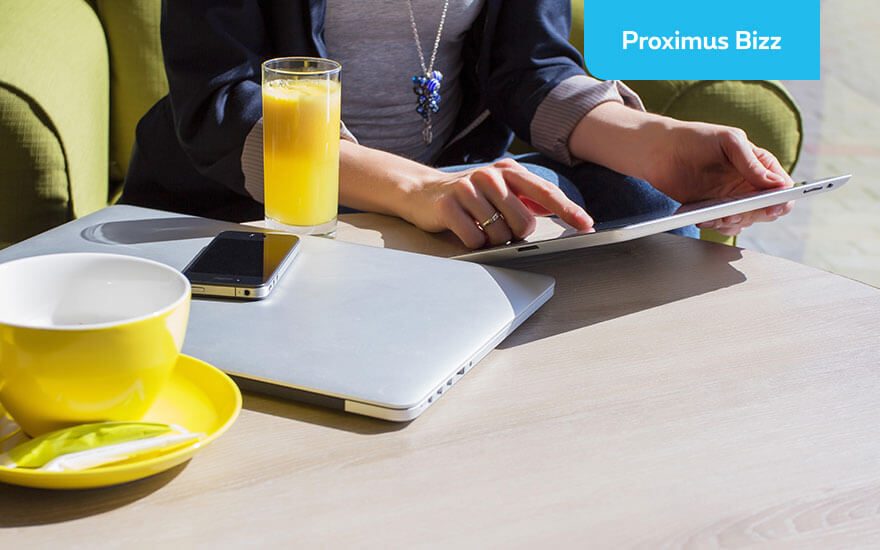 With the advent of the New Way of Working, mobile devices have become ubiquitous and quite indispensable in your professional life. But are they always safe? Don't you run the risk of allowing in a Trojan horse? Not if you take the right precautions. Here are some tips.
Ever since the dawn of mobile technology, work and private life have become more intertwined than ever. More and more companies adhere to the BYOD trend (Bring Your Own Device). Workers download personal apps and software on their devices, which are often provided by their employers. But with each use you run the risk that confidential company information ends up in the wrong hands or that you are exposed to phishing, identity theft, data theft, etc. It's like leaving for home and leaving your front door wide open. To head off any threats before they become a problem, it's best to come up with good security measures.
Solid tips
Giving your employees clear and concise instructions is a big step in the right direction. Make your people aware of the dangers of cyberspace and give them real, useful tips to surf safely and work mobile. Below is a short selection of the most important issues.
Passwords and locking
Have your workers block access to their smartphone with a password, pin code or swipe pattern. Offer them tips to create strong passwords and advise them to use unique passwords for every service they use.
Also ask them to switch on the auto-lock on their device. This means that the device is automatically locked after a few seconds or minutes of inactivity. Most devices allow you to opt for an automatic wipe of all data after a set number of unsuccessful login attempts.
A password for your iPhone? Switch off 'simple lock' so you can enter a password or passphrase of more than four characters.
Another suggestion: iPhones are automatically secured when a password is selected. On Android devices, you need to go through the device settings which is equally simple, but takes slightly more time.
Antivirus
Antivirus software seems self-evident, but still not to everyone. Have your people install virus scanners on all of their devices. Make sure to check what Norton Multi Security and Norton Mobile Security could do for you.
Also never allow them to connect to unknown, unsecured networks or to connect automatically to hotspots. This option can be enabled on most smartphones and tablets.
The firewall should be on by default. If you do surf via Wi-Fi, make sure that the connection is secured. After using these services, always logout and make sure to turn off Wi-Fi, Bluetooth and GPS-services when you're not using them!
Updates
Always download security updates whenever they become available. It's difficult to forbid workers to install applications on their own laptop or tablet, but make them aware that it's best to purchase or download software from official, trusted sources, rather than from shady websites. Also ask them not to remove the system security settings on their device.
And, of course, make sure to back-up regularly.
Confidential Information
Ask your workers not to store important information such as login data and passwords on their phones and not to send any banking details via sms, e-mail or messaging. Also notify them of the risk of fraudulent emails which invite them to click certain links. To be really safe, they should avoid clicking on any links in email messages. Same goes for offers of free downloads. At every click, you run the risk of unleashing an aggressive virus on your company networks.
Coded Communication
You should also stress that connections over public (open) Wi-Fi networks are not safe. Always try to use a VPN (Virtual Private Network), where your professional communication is encrypted and made useless for potential hackers. Connections via our Proximus FON and Proximus Auto FON network, by the way, are always encrypted with WPA or WPA-2 protocols.
Safe in the Cloud
The best way to store your company data is in the cloud, on servers in a maximum-security data centre, and not on the devices themselves. That way, no local copies can fall into the wrong hands when a device gets lost or stolen. With OneDrive for Business you can work, share and collaborate free of worry in the cloud.