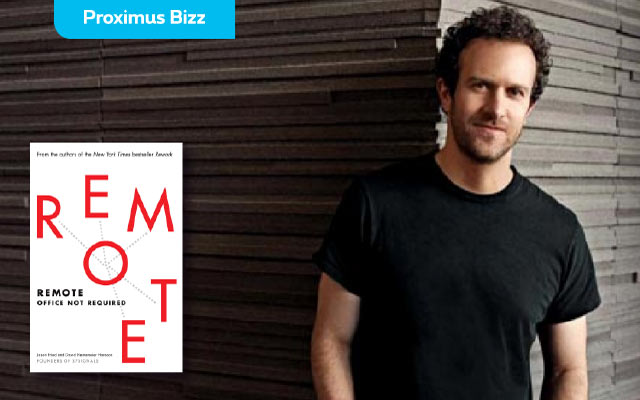 Working from nine to five as the clock strikes? Mandatory trips to the office every day? And working through (at least) three meetings while you're there? That's no longer the way things work, says Jason Fried, CEO of 37Signals. To make sure you get a maximum return from your workers, you need to give them the freedom to achieve more. And that freedom also has significant advantages for your business.
Teleworking and satellite offices… not many topics have been so hotly debated in the HR community in recent years. The business world is quite polarised by the subject: many entrepreneurs think it's fantastic, others are very wary. There are many reasons not to join the movement. Jason Fried gives anoverview in his book Remote: Office Not Required: "working is done in an office", "people have too many distractions at home," "big companies don't do it so why should we?" and more in the same vein. Of course there are challenges and obstacles that companies need to conquer if they want teleworking to pay off. But the advantages are exponentially bigger than the downsides, says Fried.
In the zone
In order to do really meaningful, creative and well thought out work, workers need time, says the author. They have to get "into the zone", as it were. At the office, there is usually very little time or opportunity to do this: people dropping in on you, phones ringing, and an endless stream of emails. There are of course similar distractions at home, but you have much more control over them. Put on our headphones, get the phone off the hook and turn the computer off. And no colleagues that come by to tap you on your shoulder either.
Millions of square meters
Most people work better if they themselves can determine where and when they work, says Fried. And the vast majority of employees is perfectly capable of handling that freedom. That in itself is an enormous advantage of teleworking, but companies can also save a lot of money. Since teleworking was introduced at IBM in 1995, the company has been able to decrease its office space world wide by more than 7 million square meters. Almost 5.4 million of those were sold on to the tune of nearly 2 billion dollars. Yearly, on average, Big Blue saves about 200 milllion dollars in the United States and Europe alone, Fried calculated.
The magical formula
So is teleworking the magical formula that will solve all of your problems? No, of course not. There are distinct disadvantages and the author isn't blind to those either. Take personal contact, for instance, which is something that people would like to hold on to. And sometimes, nothing works better than a couple of hours of brainstorming with the right colleagues.
The loss of structure and authoritative boundaries is not something that everyone can manage. Some employees will not be happy at all when asked to telework, so you'll likely have to come up with different solutions for them.
For and against
Remote: Office Not Required makes a convincing and compelling case for teleworking. Of course Fried himself has for a long time been convinced about the advantages. Nevertheless he deals with all the arguments, for and against, and comes with enough solutions to counter the disadvantages. As a result, the book is not the dry, academic paper you would expect, but a clear, witty and well-written pamphlet, lavishly larded with illustrations and cartoons. If you think about introducing teleworking into your business, you should really consider reading this book.
BIO
Jason Fried and two of his friends launched 37Signals, a web design agency, in 1999. In 2003, Danish programmer David Heinemeier Hansson joined the company to write project management software for the young firm. Very quickly, customers started asking if they could use the same software. Just over a decade later, 37Signals' project management and collaboration software helps more than 300 million people every day. Jeff Bezos, founder of Amazon, is the only investor in 37Signals.