Help, my iPhone is blocked!
Published on 21/12/2017 in Tech, tips & tricks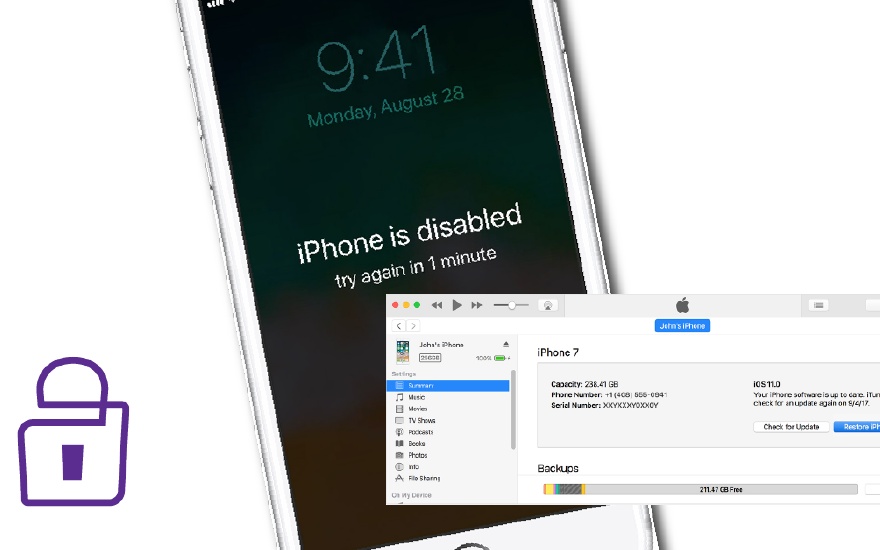 Have you entered the wrong code to unlock your iPhone too many times? Then it is blocked as a security measure. We explain how you can unblock it again.
There are three ways to bring a blocked iPhone back to life. Unfortunately you will have to reset the telephone in all three. Then you can reinstall a backup copy of your files and data.
iCloud
The first way to unblock your telephone is by looking for it in iCloud, the online service from Apple (www.icloud.com/find). This works only if your telephone can detect a Wi-Fi signal or mobile phone connection. Click on 'All Devices' at the top and choose the locked telephone. Then click on the trashcan to wipe the telephone. Then you can restore the factory settings or reinstall a backup copy. You can then also choose a new access code right away.
iTunes
Have you already synchronized your telephone with iTunes? Then you can also restore it via this program. Connect your phone to your computer and open iTunes. Click on the icon of your iPhone and choose 'Restore iPhone'. If you have activated 'Find my iPhone' in your telephone settings, iTunes will ask that this be deactivated first. Then your phone will be wiped and you can reinstall a backup copy as necessary.
Recovery mode
Does neither of the above methods work? Then you must manually put your telephone in recovery mode. Turn off your telephone and then keep the on/off button and the home button both pressed. Do this until you see 'Connect to iTunes'. Then you can connect the telephone to your computer and restore it via iTunes.
Do you have to go through one of the above procedures regularly because you keep forgetting your code? You can also deactivate this protection in your telephone's settings, but that naturally involves some risk. If you lose your telephone or it is stolen, the thief (or honest finder) can easily look around in your phone.