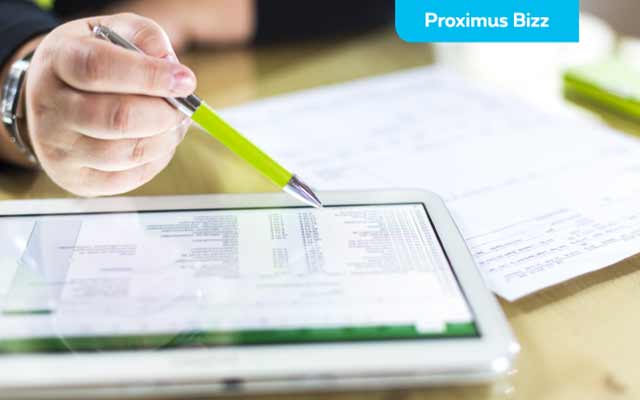 The legal distinction between paper and electronic invoices has been lifted years ago. And while electronic invoices are not mandatory, they do come with some great extra advantages. So how does it work and what are those advantages? Read on.
Fast
Electronic invoicing is much faster than paper invoicing. Invoices come in via e-mail, a service provider (such as Zoomit or Doccle) or even directly into your accounting software. It's perfectly possible to register incoming and outgoing invoices automatically in your accounting tools. That's a lot quicker and a lot more comfortable. And if both parties happen to use the same software, there is almost no manual intervention required. So you no longer have to copy out data and figures. And that's a big time saver. Time you can spend on what really matters: growth and innovation.
Cheaper
Working digitally also comes with a nice cost saving. Don't just think stamps, envelopes and paper. But also indirect or hidden charges: like time and money wasted when employees have to copy out invoice details, look up and match documents, approve invoices and archive them. How much you save varies from business to business. It depends on how many invoices you send and receive, how automated your business is and how much time you save on the amount of time that customer invoices remain outstanding.
Secure
Electronic invoicing is a lot more reliable than paper invoicing. The chance of making mistakes is a lot smaller. Most accounting software automatically checks documents that go with invoices, like order forms and delivery notes. That's an extra guarantee that you got everything right. And since you no longer have to manually (re-)introduce invoice details in various systems, you won't be making those typos again either.
Greener
Last but not least: electronic invoices are a lot more friendly to the environment than their paper siblings. In Belgium, about 6 billion invoices are sent each year. Bigger organisations often keep up to five or six copies of every invoice, archived at different departments. So imagine the savings in paper and trees. And we're not even talking about transportation and the accompanying carbon emissions to take paper invoices to their destinations.
Convinced? Why not start with requesting your Proximus invoiced electronically. Click here to activate the option today!